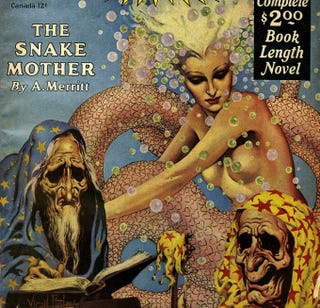 So your space-wizard novel has resolved its epic storyline: Your hero has defeated your villain, or your central mystery's been solved. But unlike your hero, your work isn't done: there's still the denouement, where we find out what happens afterwards.
It's another outing of Free Advice for Struggling Writers, our semi-regular writing advice column, in which free advice could cost you... your sanity. Or more likely, ten whole precious minutes.
I was thinking about denouements a lot, after the ongoing debate over Dumbledore's funeral in Harry Potter And The Half-Blood Prince. The story's main action wraps up with the showdown between Harry, Dumbledore, Snape and Draco... do we need to see Albus going in the ground afterwards? Do we need the closure? Obviously, we know without seeing it that they're going to bury Dumbledore — there's no tradition in the Potterverse of eating the honored dead, that I know of — and you could argue the story ends with Dumbledore dying and Harry deciding he can't go back to Hogwarts. But given that the whole sixth book is about the relationship between Harry and Dumbledore in many ways, it feels unsatisfying not to say goodbye to Dumbledore properly. It blunts the emotional impact of the whole story.
This is definitely something I've struggled with in my own work — the locomotive of the story's main plot has deposited my characters at their destination, and is now chugging off into the distance. But the characters are still milling around on the platform, with one last chance to talk to each other, to resolve all of the issues from that long train ride, before they disperse forever.
How do you let these poor beleaguered travelers have their say, without making the reader feel trapped in a railway station?
As far as I can see, there are several uses for a denouement:
1. Explain what the hell happened, that you were too busy detonating things to explain during your climax.
2. Wrap up all the loose ends, including stray plot devices and random plot threads that didn't already get blown up.
3. Give your characters some emotional closure, and one last chance to work through the choices they've made.
4. Hint at how life will go on, after the book is over. (And lay down some landmines for your characters to step on in the sequel, if any.)
5. Provide some resolution to the themes of your story.
I'm basically going to argue that reason #5 is the only absolute requirement for your denouement — and even that can be done in a sentence, if you're deft. Reasons #1-4 may only be necessary if you botched your climax*, and in any case you can let your readers do a lot of heavy lifting, if you provide a few cunning hints about how things are shaking out.
While I was sorting our my thoughts on this topic, I was lucky enough to run into Doug Dorst, author of the amazing Alive In Necropolis, and asked him what he thought made for a good denouement. It turns out he struggled with this same question in his own novel: "I don't think I nailed it. I felt like I was going on and on. It felt like this uneasy series of sacrifices."
By "sacrifices," Dorst means he wanted to give every character a satisfying conclusion to his or her arc, but there just wasn't space "It could have gone on for another hundred pages... I didn't want it to be like the last Lord Of The Rings movie, which had like nine endings."
Dorst came up with one clever solution to his problem: He described one key scene of his denouement only in a police report, which was quick and efficient, plus the form of the police report added a bit of stylized coolness. It wasn't as rich or descriptive as actually narrating the scene, but the reader can always add some of that themselves.
The main thing that occurs to me, after talking to Dorst, is a general maxim: There will always be loose ends. Always. Even if you spent 1,000 pages tying up loose ends after your story begins winding down, all of that frenetic resolution will probably just generate a new batch of loose ends, which you'll need another 1,000 pages to cope with.
Another maxim that occurs to me is: There are a lot of things that are way more interesting to read about when they take place during a crisis. Both because your space wizard will have to speak a lot more concisely when he/she is dodging the enemy's laser-spells at the same time, and because people who think they are about to die tend to make a lot more interesting snap judgments. Think about that bit in the penultimate episode of Buffy season four, where Buffy and her friends process their relationship while climbing down into the evil army monster base: it's a lot more interesting than processing their relationship over iced tea.
Here's what it boils down to, for me. (Feel free to disagree, as always.) The climax is where your plot ends. The denouement is where your story ends.
(We had a lengthy discussion about the difference between plot and story here — suffice to say that I wound up being convinced that "story" means something more emotionally rich, more mythic, more character-centric, than "plot," which is more to do with "we have to find the Mystical Sceptre of Alpha Centauri before the Oort Warlocks do!")