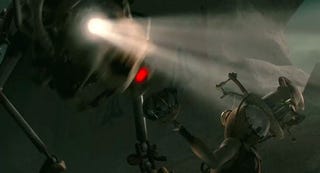 In most post-apocalyptic movies, we bring destruction on ourselves with our advanced science, and there's a cautionary message about trusting technology. But the lyrical 9 may be the first film that shows good machines fighting evil ones, after we're dead.
Oh, and there are definitely spoilers in this review, although I try to avoid giving away any major twists.
As you probably know, 9 is based on a short film by writer/director Shane Acker, which garnered an Oscar nomination a few years ago. The film impressed both Timur Bekmambetov (Wanted) and Tim Burton (Edward Scissorhands) so much, they both agreed to serve as producers and get it made into a full-length feature. The full-length version contains the same beautiful, unsettling animation as the short film, but fleshes out the characters and the backstory of the world — and the crucial question is whether you'll find the fleshed-out, longer version as intense and fascinating as the short film.
In 9, humans have built super-intelligent war machines, which have gone on to create other machines in their own image and then risen up to destroy us. There's never any doubt that — as Flight Of The Conchords would say — the humans are dead. So instead, our protagonists are also machines, but they're cute, cuddly machines, with skins of sackcloth and cartoony eyes that are constantly refracting their shutters in a lovable fashion. But the "ragdolls" have their own internal power struggle, between the hegemonic, conservative 1 (Christopher Plummer) and the rebellious, inquisitive 9 (Elijah Wood). 1 wants to keep the ragdolls safe, cowering in hiding, while 9 wants to go out and find the truth about their existence.
As I said, this is an unusual post-apocalyptic narrative in that we see two groups of machines fighting each other over the ashes of humanity. We slowly learn more about how the human race died, and why the bad machines are so furious. The film makes a stab at explaining the difference between good and bad technology — it has to do with how we use it, but also what parts of ourselves we put into creating it — and we see how the machines rose up and destroyed us. The scenes of rubble and devastation, with the last remnants of humanity dying off as the first ragdolls flee, are among the film's most affecting and disturbing.
The contrast between the two types of machine is really at the heart of 9 — the killer bots are all dark metal and sharp edges, glowing red eyes and bestial energy. The ragdolls, meanwhile, are meant to have a lot of engaging personality. They're definitely cute, and their concern for each other and their curiosity about the world contrasts sharply with the callousness of the slaughterbots. And the film makes sure we learn each ragdoll's unique personality early on. As Timur Bekmambetov said in our exclusive interview, each ragdoll represents an archetype, including the hero, the friend, the dictator, the crazy person, and... oh yeah, the girl. (Jennifer Connelly, representin' for the ladies.)