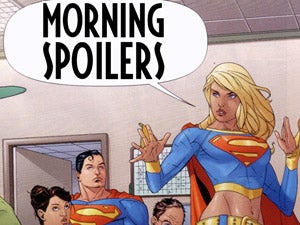 Get a spoiler catharsis with intense teasers and featurettes from Pandorum, Jennifer's Body, 9, Supernatural, Smallville and FlashForward. Crazy Doctor Who rumors! Guess who's wearing the cheerleader uniform on Heroes! Plus Surrogates, Gamer, Dark Shadows, [Rec], Twilight, Lost and Chuck.

Pandorum:
Here are a couple of new TV spots for this space-horror epic:

Jennifer's Body:
A new behind-the-scenes featurette takes you behind the sexy horror of the horrific sexiness.

And Entertainment Tonight actually featured a clip of the Amanda Seyfried/Megan Fox kiss, plus Megan Fox talking about her character:

Surrogates:
More details on the footage that director Jonathan Mostow showed reporters: Bruce Willis and other surrogate cops are chasing a suspect in a helicopter, and the suspect is on a motorcycle. The suspect weaves in and out of Boston traffic, then abandons his motorcycle. He takes out some cops with his pulse gun, then shoots at the helicopter. Willis disconnects from his surrogate just before the blast hits, waking up in his apartment. Then he reconnects to his robotic surrogate and continues the chase, following the suspect into the surrogate-phobic reservation, showing how badass his robot body can be, jumping over shit and taking lots of damage.
And Mostow says Willis has "existential ennui" because the only crime that's left — crimes against people's robot surrogates — is a property crime rather than murder or whatever. (So why don't criminals just break into your house and stab your real body while you're controlling your robot body?) This makes Willis feel his job as a cop is meaningless, and he can't connect with his wife. Once Willis has to operate as his real self, he realizes just how hollow his robot-body-driven life was. [IGN]
9:
Star Elijah Wood was on Conan O'Brien the other night, and he talked about the numerology of this movie as well as Comic Con:


There's also this somewhat weird disturbing clip from his children's TV appearance, which has nothing to do with this movie, but it's too weird not to share:


Also, Wood and director Shane Acker talked to Sci Fi Wire, and explained a bit more about the film — we start out seeing through 9's eyes, and he knows as little about this world as we do. We follow him on his journey of discovery, and he convinces the other ragdolls to try and figure out more about who they are and what the machines are. They can't physically fight the machines because they're too fragile. So gathering knowledge is the only way they can win. Also, 7 (Jennifer Connelly) is a fiercly independent warrior who pushes everyone else away. She's a maverick. [Sci Fi Wire]
And here are a couple new featurettes, from what appears to be the film's official Youtube channel:

Gamer:
So we talked to Amber Valletta yesterday about being a sex-puppet in this sex-and-violence games movie. Apparently, the guy who controls her is sort of a disgusting slug, and he licks his lips in every single scene he's in. The two of them never appear together, though, because he's controlling her remotely. [UGO]