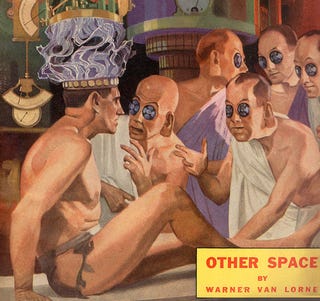 One of the frustrating things about science fiction is that everyone's seen the year's biggest movies: Even films like Transformers 2, which most people seemed to dislike. But how many books are there that everyone you know has read?
In any given year, there are probably at least a dozen science fiction movies that all your friends are likely to have seen and be able to rave (and bitch) about over lunch. This year, they include Star Trek, Watchmen, District 9, Moon, G.I. Joe, Transformers 2, Terminator 4, and a few others. The same goes for several TV series: You can be in a room with a random assortment of science fiction lovers, and almost everyone will have an opinion about Dollhouse or the BSG finale.
But even though almost everybody I know reads books religiously, it's a lot harder to find a room full of science fiction nerds where everybody in the room has read the same recent book, and wants to praise it or tear it to pieces. Everybody's reading books, but they're all reading different stuff.
From asking around, I get the impression there are two or three exceptions to this rule in any given year. Often, there'll be at least a couple of science-fiction books that every science-fiction reader will read, or at least have a strong opinion about. Often, you'll find these books on the Hugo and Nebula ballots, which tend to select for the books that the most people have read.
Obviously, nobody expects books to get the same level of ubiquity as movies or television — those media have a much broader reach. Plus it's a much smaller time commitment to watch a terrible movie (one evening, versus a week or more to read a decent-sized book.)
But I feel like mainstream (for lack of a better term) books do produce more volumes in a given year that everybody from a particular social class will be expected to have read — or skimmed, at any rate. Every year, you've got your Life Of Pi, your Brief And Wondrous Life Of Oscar Wao, your And Then We Came To The End. There's a certain class of book, what agent Nathan Bransford calls "Book Club Fiction." As I understand it, this isn't just books that get read by book clubs — it's books that are pervasive and talked about everwhere among "mainstream literary" readers, books that you must read to get your membership card in the bibliophile squad renewed in good order.
Some science fiction books not only break out of the genre paddock, but also cross over to the extent that they become "book club" fiction. Bransford says these books include Neal Stephenson's Anathem, Audrey Niffenegger's The Time Traveler's Wife, Jonathan Lethem's early works (like Gun With Occasional Music), William Gibson's older works, Margaret Atwood's Oryx and Crake, and Iain Banks' stuff.
And there's a whole apparatus that generates these books and makes the machine keep churning. You've got your book clubs, of course, and publishers have become much more aggressive about marketing to them (just look in the back of any big Simon Says book, and there'll be a list of insipid book-club discussion points, which the paperback of Sense And Sensibility And Sea Monsters satirizes brilliantly.) There are newspaper book review sections, although those are shrinking and vanishing. There's Oprah.