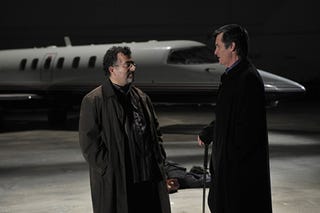 Last night's Warehouse 13 featured better gadgets, delved into the dirty details of one character's past, and introduced us to the series antagonist. Could we finally be seeing the show breaking out of its weekly artifact hunt?
In this week's episode, "Implosion," we finally see Warehouse 13 break out of its artifact-of-the-week plot, even as we see it continue to scramble to try to find its footing.
We know from talking to actor Saul Rubinek that his character, Artie, has a deep, dark secret, and tonight we finally got to delve into Artie's past, a past that includes espionage charges and a stint in prison. But first, Peter and Myka have to steal a Japanese sword (one that, incidentally, can make its bearer invisible) and replace it with a fake, when an implosion grenade goes off in the Japanese agency, apparently taking the artifact with it.