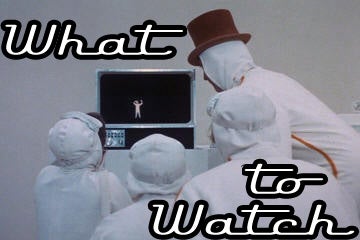 The first family of Eureka has a baby shower, and we can't wait to see what crazy gadgets the town of geniuses gives. In other TV news, the True Blood gang returns from Dallas and Monk investigates an alien abduction.
Monday:
Clash of the Gods -
On a realllly slow night, catch up on what made Hades keeper of the Underworld, as well as Greek beliefs in the afterlife. On History Channel at 10 PM.
Movies:
Watch Paul W.S. Anderson's Death Race starring Jason Statham and dream of what the prequel/sequel will be like. On Cinemax at 8:15 PM.
Tuesday:
Nova -
Learn about personal genetic profiles, which could predict your likelihood of certain diseases, and discover a Texas algae farm, where they turn the green stuff into biofuel. On PBS at 9 PM.
Warehouse 13 -
Pete and Myka have to repossess a samurai sword that is about to be given to the President, and they discover an evil version of their Warehouse. There's a rival "collector" competing for their items — maybe we'll finally get a recurring adversary for our duo. That's on Syfy at 9 PM.
The Universe -
A new season of Universe begins with dying stars, stars turning supernova and their effects, and the real threat posed by Earth's nearby stars. Discover a whole new danger, on the History Channel at 9 PM.
Movies:
An earthquake drops a little-league baseball player into Camelot — yes, that Camelot — in A Kid in King Arthur's Court. The best part is keeping your eyes peeled for appearances from Kate Winslet and the newest James Bond, on Disney XD at 5 PM.
Wednesday:
MonsterQuest -
Large tigers, or maybe jaguars, which roam the eastern states, take a bite out of the season finale on the History Channel at 9 PM.
Movies:
Isaac Asimov's stories "inspired" the 2004 Will Smith vehicle I, Robot, but will you be inspired to watch it on FX at 5:30 PM?
Thursday:
CSI: -
On an extremely slow night, CSI is a repeat of an episode that sends the team to Comic Con-esque convention where a TV producer who's planning on remaking a beloved science fiction series is murdered. Watch to make fun of the obvious stereotypes, and keep an eye open for Ronald D. Moore, on CBS at 9 PM.