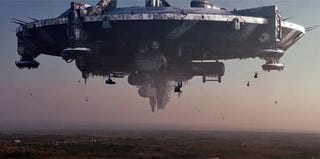 With District 9 a bona fide hit and GI Joe amazing all by not crashing and burning, the summer movie season of 2009 has ended just as it began: Surprising a lot of people. What lessons can we learn?
Nature Abhors A Superhero Vacuum (But Apparently Abhors Wolverine Even More)
After last year's crunch of The Dark Knight, Iron Man, The Incredible Hulk and Hancock (and you could arguably throw in Speed Racer in there, as well), this summer was remarkably clear of superheroes, if you ignore X-Men Origins: Wolverine (as most who've seen X-Men Origins: Wolverine are probably prone to do). But, even as Hollywood collectively recovered from last year's superpowered orgy and looked around the nostalgiascape to see if there were alternatives, we couldn't help but notice that some of the movies this summer seemed like superhero movies anyway. GI Joe, with your battlesuits and superhero team dynamic, we're looking at you.
It didn't hurt that Joe, like Transformers: Revenge Of The Fallen and Star Trek, had clearly defined good guys and bad guys, as well as larger than life stakes and days to be saved - oh, and action set pieces during which the day-saving takes place. Yes, none of these films featured people with actual superpowers (aside from Spock's mind-melding, but come on), but in almost every other respect, they were superhero movies... and all the more successful for it.
Moral Ambiguity Isn't What We're Looking For, After All?
And what of Wolverine? Or pre-summer release Watchmen, for that matter...? Why weren't they Dark Knight-style colossuses (colossi?), striding across the box office landscape? Possibly for the same reason that Terminator Salvation disappointed: Because they were ill-considered, non-sensical pieces of filmmaking that considered style more important than substa - No, wait, I mean, "because neither offered any comfort to the viewer" (Okay, maybe a little of the former, too). Yes, Wolverine "won" at the end of his movie, but it was a shitty victory that still made him look like an easy dupe who'd been used and abused by The Powers That Be. Watchmen's (and, for that matter, Terminator Salvation's) victory was even more ambiguous. And maybe, Dark Knight aside - and who's to say that that movie won't continue to seem more and more like a fluke in terms of hyper-popularity as time goes on - that's just not what audiences are looking for from their blockbusters?
We Don't Need No Stinkin' Reviews
GI Joe wasn't screened for mainstream critics ahead of its release - which, considering the harshness of some of the reviews, seems like a sensible plan - and had a more successful opening than most expected. In interviews, Joe director Stephen Sommers cited the success of the badly-reviewed Transformers 2 as the reason why some movies don't need reviews any more: