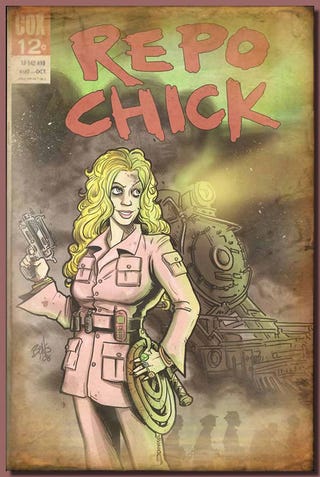 Repo Man director Alex Cox will premiere his new movie Repo Chick at the Venice Film Festival in September, say sources — but Repo Chick isn't a sequel. And neither is Universal's new movie Repo Men. Confused yet?
Blame the financial crisis for a new boom in movies with "repo" in the title, as well as a sudden interest in recycling on the part of movie studios. Cox started filming Repo Chick last January, and recently he got a cease-and-desist letter from Universal, which released Repo Man. He wrote on his blog:
I anticipated the "cease and desist" letter from The Studio, attempting to stop production of REPO CHICK on the grounds that it was an illegal sequal to REPO MAN. That was inevitable, given the history of the company, whose parent - MCA - stood for "Muscle, Cash and Attorneys." So, when a letter came, forbidding me to make my movie and signed by no less a personage than the Executive Vice President In Charge of Litigation, I stuck it in the drawer labeled 'Restraint of Trade' and carried on...

What I wasn't prepared for was the e-mail Jon Davison sent me today: an article reporting that "Universal's embattled execs" were putting their big hairy monster picture on hold, and rushing out a film called REPO MEN.

What?

REPO MEN is definitely not a sequal to my film. I still have a contract with these guys and - if they ever want to make a film based on my original work - they have to ask me to direct it. What fun that would be! But it seems The Studio has, among its souvenirs, a Jude Law thriller called THE REPOSSESSION MAMBO, shot in Canada, almost two years ago. I'm sure this is an excellent film, which Universal accidentally forgot to distribute, and now are passing off, in their innocence, as the new REPO MAN. Only a cynical person might see any attempt to catch the upward draft of REPO CHICK, and give loft to a turkey.
We wrote about Repossession Mambo a lot a couple of years ago, and actually speculated about whether it would cause problems for the smaller, campier musical film Repo! The Genetic Opera. (Remember that one? It had Anthony Stewart Head singing about drugs.)