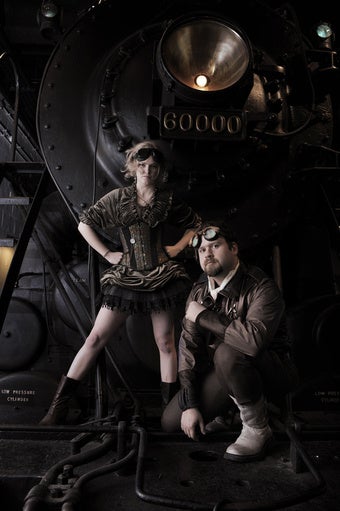 Goggles, gaslights and gears, oh my! Steampunk is a steadily growing subgenre of speculative fiction. We review four current and forthcoming books that have been affixed with that label... in an elegant copperplate hand, naturally.
Ever since I was four years old, in 1972— before the merger of punk to steam, I wanted to be Captain Nemo. After devouring Verne and Wells, I discovered the Oswald Bastable trilogy by Michael Moorcock. Philip José Farmer further fueled my feverish pubescent imagination with such works as The Wind Whales of Ishmael and The Other Log of Phileas Fogg. I discovered there's more to science fiction than spaceships and robots in the future.
K. W. Jeter is usually credited with coining the phrase "steampunk" back in the early 80s. He, along with Tim Powers and James Blaylock, created dark versions of the Victorian Era, stocked with accelerated technology re-dressed in period appropriate materials with occasional supernatural elements. Morlock Nights, The Anubis Gates, and The Digging Leviathan all echoed the literature and feel of 19th Century and commented on society struggling to keep up with rapidly changing technology. With less doom and gloom than than its gleaming, black, low-slung sibling — cyberpunk — these speculations still offered cynical social commentary. The Good Old Days weren't all that great, and throwing a lot of shiny gizmos around will never fix the societal ills that confound us in any era.
I wasn't really aware of this trend in fiction until '91 when William Gibson and Bruce Sterling introduced the wider reading public to steampunk in The Difference Engine. Then, as Snow Crash did to Neuromancer, Neal Stephenson one-upped Messers Gibson and Sterling with The Diamond Age. It's just my humble opinion; this is a smarter and by far more entertaining novel. Stephenson turned the expected convention around, injecting Victorian styles and sensibilities into a future that enjoys nearly miraculous technologies. His novel examines the infamous repressive morality of that era as much as it explores the possibilities of nanotech. Michael Swanwick took a similar route with a far more playful tone in the ripping adventures of Darger and Surplus. I strongly recommend these ribald short stories — there is an excellent recent Swanwick collection from Subterranean Press and another, The Dog Said Bow-Wow, from Tachyon.
Also of note is Paul Di Filippo's weird and wonderful Steampunk Trilogy (1995). The first tale concerns a gentleman inventor and his remarkable amphibian prodigy involved in a royal scandal. "Victoria" fits most preconceptions of what a steampunk story is about: advanced retro-science and aristocratic adventures. The other two are more atypical but I adore Di Filippo's customary pop culture references and mashups at play in the 19th Century. Famed naturalist and racist asshole Louis Aggasiz visits the sleepy little fishing hamlet of Innsmouth? Emily Dickinson and Walt Whitman explore the astral plane with Madame Blatavasky — and Allen Ginsberg has a cameo? Zany, clever stuff.
Even though steampunk lit has been around for a few decades now, it's increased rapidly in popularity the past few years. It has inspired other media as well as design and fashion to an eye-rolling degree. There are more steampunk novels than ever, although too many or not enough for some people. Here I'd like to share my thoughts on four of these with you, Gentle Reader.