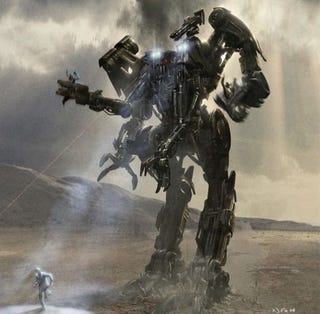 Tired of the creaky entertainment machine churning out copy-cat stories of zombies, superheroes, apocalypses and cyborgs? Then you need to conjure new dreads and fantasies in the real world, since that's where all our science fiction cliches come from.
We look at science fiction from the Cold War era with a certain bemusement, with all those allegories about Communist aliens, valiant colonizers and suburban/corporate conformity being challenged. But it's a safe bet that our onslaught of cookie-cutter movies, TV shows and books will look just as quaint, and reflect our out-of-date obsessions just as much, in a decade or two. And (we can hope) a whole new bunch of soon-to-be-dated genre standbys will be bursting out of our screens and pages, in masses and masses of sameness.
Every science fiction cliche reflects the obsessions of the time that created it. The stories that we feel the need to tell over and over are, in a sense, both wish fulfillment and metaphors for our technological progress, as well as the fears that progress have given rise to.
When mainstream science fiction comments more directly on politics and our social anxieties, it often feels jarring and/or preachy. There are exceptions — Battlestar Galactica talked overtly about the War On Terror, with its storylines about torture and suicide bombers, and its enemy who can look just like us. And it paid off, with acclaim and awards. But often, science fiction hits home when it's discussing our fears and excitement about progress and politics from one or two removes.
So how do our current crop of overused story ideas reflect today's preoccupations? Here are some stabs at identifying the roots of our fantasies. As always, feel free to disagree:
Superheroes
As we pointed out a while back, today's biggest superhero narratives are all war stories. For a while there, every big Marvel crossover had to have the word "war" in the title, and the prevalence of crossovers, in itself, is a preference for war stories over minor battles. Superhero stories used to be about crime, and even godlike characters like Superman were called "crime-fighters," making the world safe from urban malcontents.