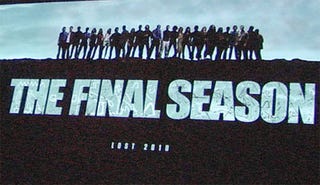 A new Lost poster shows almost all the stars who've appeared since season one. In the center is Locke... with his back to the camera. But the videos shown at Comic Con offer the biggest season-six hints. Watch for yourself.
Meanwhile, Elizabeth Mitchell's interviews from the Con make it sound like the producers weren't planning on having Juliet come back at all in season six, but the fan response to "LaFleur," the episode where Sawyer and Juliet started having their relationship, was better than expected. So now there's a development that she can't talk about.
Lost poster image from SL-Lost.