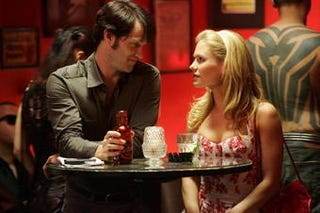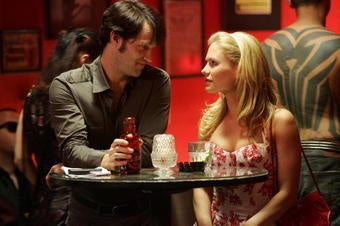 The True Blood panel met with some of the loudest and most fervent cheers seen at Comic Con. The fans were rewarded with a preview of the rest of the season, and details on the show's future. Bloody spoilers below.
Show creator Alan Ball spoke optimistically about the show's future, saying he hopes it has a long life and runs for several seasons. Though the third season hasn't been officially confirmed yet, he treated it very much as a done deal. He hopes to vastly expand the show's mythology next season, to include more material from the books, bringing in werewolves, Russell Eddington and the Mississippi vampires, and Debbie Pelt.
One element Ball said he doesn't think will be included is Bubba, a vampire who also happens to be Elvis Presley. Ball said this works on the page due to suspension of disbelief, but Bubba would only ever look like an Elvis impersonator on the screen, making the whole thing look unforgivably cheesy. The audience very vocally disagreed with this assessment. (Perhaps they could get Bruce Campbell to bring some of his Bubba Ho-Tep gravitas to the role.)
The show should indeed have plenty more source material for the many seasons Ball hopes to do, as author Charlaine Harris announced she'd just signed on to write three more books, taking the series all the way through to 2014. About the only thing Ball can confirm will remain a constant in the series is character change, as he wants characters to react realistically to the crazy circumstances in which they find themselves, and often that will mean altering how they look at the world. He also made it very, very clear that there will never be any half-vampire babies on the show, sounding almost disgusted when one fan asked him about this possibility.
But the panel wasn't just there to talk about the series proper. Alan Ball also unveiled the new True Blood drink, the design of which is styled after the bottles seen on the show. Though he initially claimed the drink is a highly illegal brew of blood, vicodin, viagra, cocaine, and ecstasy, he then admitted it was just a refreshing orange soda with a blood orange color to it. Sounds like the perfect beverage for your True Blood watching parties.