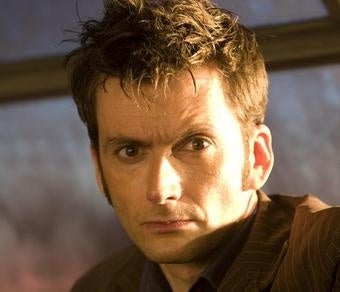 David Tennant has already filmed his final episodes as the Doctor, the time-traveling champion in Doctor Who, but his past is still our future. He explained to us what happens in those episodes, and why they're the most emotional yet.
We were lucky enough to sit down with Doctor Who star David Tennant, plus executive producer Julie Gardner, (re)creator Russell T. Davies and director Euros Lynn, along with a handful of other reporters. We'll post more of their answers to our searing questions next week, but here's the breaking news. Oh, and there are spoilers below...
First of all, Tennant and Gardner insist that there's no news about a possible Doctor Who movie, and they want to damp down speculation that tomorrow's Who panel will include some kind of announcement. There's no announcement, just them talking up Tennant's last few "special" one-off episodes as the Doctor. On the other hand, Tennant promises that if every single audience member comes to the panel dressed as the Tenth Doctor, Tennant will do the panel in the nude. So there is that.
So after spending so much time crafting our video of every single time Tennant's Doctor says the word "sorry," we had to ask Tennant himself: Why do you think your Doctor is so apologetic? And Tennant had a thoughtful answer: