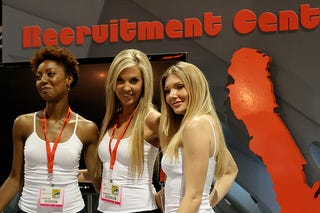 There's advertising — and then there's badvertising, and we saw a lot of the latter at Comic Con. So we rounded up some of the most epic of the weekend's advertising fails for you.
I have no Earthly idea why these women were recruiting for V. I mean, it's got aliens in it. That should be enough. No need to bring out the T&A just yet, are we that desperate already?
Additional reporting, pictures and writing from Julia Carusillo, Ray Wert and Cailtin Petrakovitz
Kotaku reported on Dante's Inferno boob marketing fiasco called "Acts of Lust." A contest asking Conners to "snap photos of themselves with hot women at the comic-con," they later apologized.