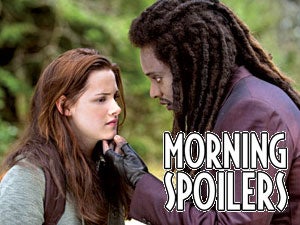 The Monday morning spoiler-backing begins with new pics of Don Cheadle in Iron Man 2 and Amanda Seyfried in Jennifer's Body. Plus the inside scoop on Caprica, Pandorum, New Moon, V, Fringe, Flashforward, Warehouse 13, Eureka, True Blood and Eastwick.

Iron Man 2:
On the heels of last week's images of ScarJo in this sequel, Entertainment Weekly also posted new images of Don Cheadle as James Rhodes, with Sam Rockwell as Justin Hammer sitting next to him. And another image shows Jon Favreau and Robert Downey Jr. watching playback of a scene in a boxing ring. There's also a Gwyneth Paltrow pic at the link. [Slashfilm]

Pandorum:
Cung Le describes his character in this mysterious space-horror film:
His name is Manh. He's an agriculture specialist and he's been awake for a while. The storyline is two crew members wake up and don't know where they are at. Or what their mission is. I've been awake and I know what's going on and I've been surviving on this ship. Over time he's battle-hardened. He knows what to do.
There's a language barrier, since Manh speaks no English, and the other two crew members speak no Vietnamese. And every time you think you've figured out what's going on, there'll be another crazy twist, leading to a "mind-fuck" ending. And the creatures in the film are really scary, especially when they're coming straight at you. [ShockTillYouDrop]
Jennifer's Body:
A couple new promo pics include a virginal-looking Megan Fox. [IGN via ShockTillYouDrop]

New Moon:
More details from the set. Hollywood.com watched the filming of a scene where Volturi leader Aro taunts Edward from the other side of a wall. Aro says it's a delightful surprise that Bella's still alive, and says it makes him hungry. He asks Edward how he can stand being so close to Bella's yummy blood, and Edward says it's not without its difficulties. Responds Aro, "So now you know everything. Fascinating. I'd love to see if you are an exception to my gift as well. Would you do me the honor?" Then he stares at Bella, and nothing happens. "Interesting. I see nothing. I wonder if — Let's see if she's immune to all of us, shall we, Jane?" Cut to Dakota Fanning, who smirks, since she has the power to inflict pain.
And Rachelle Lefevre, who plays the evil vampire Victoria, says the vampire running this time around will look less like running and will be more grounded and "raw." And there's a huge underwater set piece. And this time around Victoria isn't barefoot, she's wearing combat boots symbolizing the fact that she's out on a big mission. And there will be a real-life wolf on set, for one of Bella's dream sequences. [Hollywood.com]
And here's a new promo pic. [L.A. Times]

Caprica:
Ron Moore says there are no plans to have Tricia Helfer appear as an early version of Six, but "you never say never." The ongoing show will be very different from the pilot, as we discover that some of the characters are totally different than we'd thought, and some plot strands go in very different directions than you'd expected. Both Daniel Graystone and Joseph Adama think they've put the events of the pilot behind them, but they'll quickly learn differently, and their paths will cross — sometimes explosively. Also, Zoe will struggle with whether she wants to return to the virtual world, and whether she wants her dad to know she's trapped in the robot — plus whatever the scientists will do to the robot as they try to develop the Cylon race. And we'll see much more of the virtual world, as well as the way in which the 12 Colonies became unified. [Crave Online]
V:
A new review of the pilot reveals a few new details that we didn't include in our own write-up. The situation is set up very quickly — the visitors show up, and then it's "two weeks later" and everyone's accepting them. Also, we learn that the Visitors have been here before, and humans organized a resistance, and bad things happened — involving secret alien traitor Ryan as well as resistance leader Georgie. [Visitorsite]