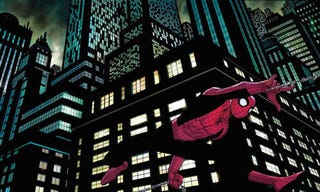 It's the week of San Diego, which can only mean one thing, right? All manner of new projects to premiere at the con! Surprisingly... not. But don't worry - that doesn't mean it's an entirely dull week at the store.
Blame it on publishers focusing on con announcements and con exclusive releases, but this week's haul at your local store seems surprisingly light. (DC only really has the hardcover release of Final Crisis: Rogues' Revenge to recommend, while Dark Horse offers up the prequel-era Star Wars Omnibus: Menace Revealed and the first issue of a new Emily The Strange series to non-con-goers.)
But if you're looking for books tying into your favorite moving picture media, you're actually in for a great week - IDW has Doctor Who: Room With A Deja View and Star Trek: Spock - Reflections #1. And Boom! has Farscape: Gone & Back #1. Even Marvel is getting in on the act, with the first issue of new videogame tie-in Halo: Helljumper.
Marvel, to be fair, is pushing the boat out with their books, offering the first issue of martial arts exploitation comic Immortal Weapons and the extra-sized #600s of both Incredible Hulk and Amazing Spider-Man (That last one being all-new material, no filler).
More superhero thrills can be found in Dynamite's Project Superpowers: Chapter Two #1. But not even that updating of Golden Age craziness can compete with the genuine article of insanity known as You Shall Die By Your Own Evil Creation, the second (and final) collection of Fletcher Hanks' comics from 1939-1941, each one a celebration of a man with a special talent for both cartooning and self-destruction. (We reviewed the first volume here.)