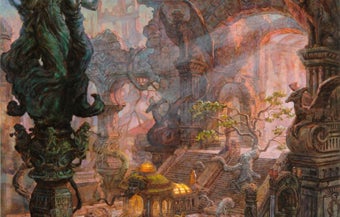 This month, spend some time in Victorian steampunk England, hunt down lost artifacts on Mars, or get to know Batman a little better. You could also grab a drink in post-apocalyptic Wales. All that and more, in July books.

High Bloods, John Farris (Tor)
It's the near future, and LA is overrun with werewolves. An International Lycan Control force is set up to keep tabs on the "high bloods," those that can keep their werewolfish nature under control. But then something goes terribly wrong, and the book becomes a hard boiled crime novel. With werewolves.
Wireless, Charles Stross (Ace)
Notorious future-forward sci-fi author Charles Stross has collected the strands of some of his short fiction into this compilation. Stories feature everything from relocating the cold war in deep space to a Lovecraftian take on the Iran-Contra scandal. The collection showcases Stross's short works that have never found their way into any of his longer pieces.
Songs of the Dying Earth, edited by George R. R. Martin and Gardner Dozois (Subterranean)
Dozois and Martin have gathered a crop of modern sci fi writers to write their own stories exploring Jack Vance's "Dying Earth" universe. The "Dying Earth" series is a cornerstone of its very own sub-genre of dystopian sci fi, and these stories give some other writers a chance to lend their voice to this seminal canon.
Metatropolis,edited by John Scalzi (Subterranean)
Five sci fi writers collaborated on their own urban future, and then each took a turn writing stories set in their collectively imagined universe. The result is a portrait of a possible future of cities. From the io9 review: