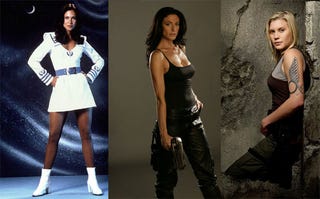 Some of the hottest hot-shot pilots in space opera are women. It's a longstanding tradition in science fiction to show women taking the controls of starships, space fighters and star-cruisers, and here are our favorite badass female cockpit jockeys.
Even as more women are becoming astronauts and getting to pilot the space shuttle, science fiction has shown tons of women taking the helm. Here are some of the most awesome, in no particular order:
Lady Sharrow in Against A Dark Background by Iain M. Banks
We don't get to see combat specialist Sharrow doing that much piloting in this book — but when she does take the controls, she makes it count. The one sequence where she does some fancy flying is one of the best moments in the book.

Carolyn Fry from Pitch Black.
I don't know how I managed to forget her — I actually had her on my list, and had grabbed this cool pic of her in advance. She manages to bring a dead ship down in spite of incredible odds — and sure, she tries to jettison her passengers. But she's just being sensible, after all.

Sue Parsons from Virtuality
As with Sharrow, Sue Parsons spends most of her screen time doing other things — mostly, like all the other characters on this show, bickering and freaking out about virtual reality nightmares. But when she does actually get to handle the Starship Phaeton's controls — watch out. She does an incredibly complex series of maneuvers while giant bombs are going off in her wake. Makes all the drama totally worth it.

Jenna, from Blake's 7.
This smuggler is the best pilot around — there's no competition, except maybe that arrogant twerp Del Tarrant. Jenna manages to take the controls of the Liberator, the most super-advanced ship in space, and master them almost immediately. And she's able to take it on manual and do some fancy flying, on occasion.

Saint-Emxin from Battle Beyond The Stars.
She's a mean Valkyrie fighter pilot, who more than holds her own in the movie's crucial Star Wars-inspired firefights. Han Solo not only couldn't pull off her headgear, he also couldn't outfly her. (I almost included Padme Amidala in this list, since she pilots a ship in Attack Of The Clones — but could Amidala really hold her own against Saint-Exmin? I think not.)

Tak from Invader Zim.
The "hideous new girl" shows up hoping to do a better job of invading Earth than Zim, and she has the ability to hypnotize humans into doing her bidding — but she also pilots her own ship.

Faye from Cowboy Bebop
Faye is an awesome fighter pilot, and even held her own in a dogfight with Spike. Runner-up status also goes to space trucker V.T., aka Victoria Terpsichore.

Carol "Foe Hammer" Rawley in Halo.
She does some pretty nifty flying as the pilot of Pelican transport Echo 419 on the UNSC Pillar of Autumn. She specializes in doing lots of missions involving hostile insertions and rescues, making her stand out from the rest.

Ana Khouri in Revelation Space by Alastair Reynolds.
This assassin joins the crew of the Nostalgia For Infinity, intent on killing one of the crewmembers, but then two different digital entities fight over control of her, and thus of the ship. Also a killer pilot is the ship's de facto captain, Illia Volyova.

Mary Raven from Ignition City.
This grounded space pilot journeys to Earth's last spaceport, Ignition City, to find out what happened to her dad, in this new comic by Warren Ellis and Gianluca Pagliarani. Space-jockey Mary Raven is determined to find out what happened to her dad, and she won't leave Ignition City until she gets some answers.

Lt. Shane Vansen from Space: Above And Beyond.
According to this site, she's "one of Earth's most celebrated pilots," piloting the SA-43 Hammerhead space fighter into battle.

Corp. Ferro in Aliens.
Okay, sure, she gets killed after speaking only a couple lines of dialogue. But she has cool sunglasses, and she manages to put the ship down through a lot of turbulence.