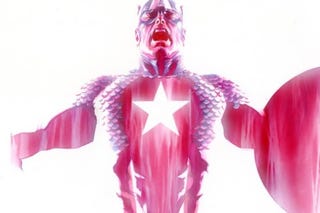 After the busy-ness of the last few weeks, it's not too surprising that this week's raft of new releases hitting your local comic store is much smaller than usual. But with new Star Wars and Reborn, it's not less interesting.
DC Comics launches two new series this week; Justice League: Cry For Justice is a six-part spin-off from the main Justice League of America series, written by soon-to-be-new-JLA-writer James Robinson. It focuses on Green Lantern, Green Arrow and their pals deciding to kick ass to work out their grief issues over the deaths of Batman and the Martian Manhunter in Final Crisis.
There's also the much-less-heralded — but much more exciting — Greek Street, which sees cult writer Peter Milligan begin a Kings-esque retelling of classic Greek myths recast in the London Underworld; it's smart, sexy and disturbing in all the right ways, and the art from Davide Gianfelice will make believers of everyone. Well worth picking up.
Marvel mixes things up by launching two much-talked about series: Marvel Divas - better known as "that comic with the terrible cover that upset a lot of people" - and Captain America: Reborn. Even though I'm convinced I know how Reborn is going to turn out, there's no chance I won't be picking this up for Ed Brubaker and Bryan Hitch alone... and, despite the unpromising interviews and pre-release controversy, preview pages for Divas suggest that it might not be the exploitative T'n'A-fest we were all expecting.