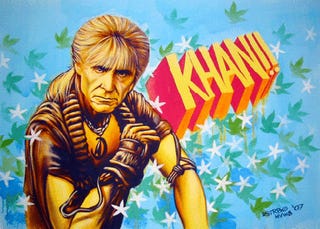 Will J.J. Abrams really make Star Trek 2: The Rehash Of Khan? Writers Roberto Orci and Alex Kurtzman told an interviewer there's "a 50/50 chance" Khan will show up in their sequel. Here's why it's a terrible idea.
I had been meaning to write this "keep Khan out of Star Trek 2 (or 12, rather)" blog post for a while now — but honestly I thought Orci and Kurtzman were just kidding about including him. The script for the next Trek, at this point, consists of a few Gorn cartoons on a cocktail napkin, and they're barely batting ideas around. So it's easy for them to hint at all sorts of fan-favorite stuff: Sure, maybe the sequel will include the Doomsday Machine and V'Ger blasting each other. Why not? Anything's possible at this point, and it doesn't do any harm to answer "maybe" to every question. And of course, if the fans get particularly thrilled about one of these trial balloons, then that tells them something.
But now, it sounds as though the Fringe co-creators may actually be considering resurrecting Khan, who's still sleeping in his little suspended-animation capsule in their revamped timeline. So just in case they're really serious about this, here's a list of reasons why a new Khan would be a terrible, epically bad idea:
You can't improve on the original.
They don't make villains like they used to — and that's not just a cranky observation. It's really true. If you think about it. Khan is almost emblematic of what we no longer see in movie and TV villains, for several reasons. He's suave, in a way that nobody is suave any more. (Can you even think of a Hollywood actor who's suave now? Maybe George Clooney.) He's ruthless, and willing to do whatever it takes to win, and to prove his superiority. His arrogant swagger isn't just bravado, it's ideological: he believes, deep down, that he's the pinnacle of human evolution.