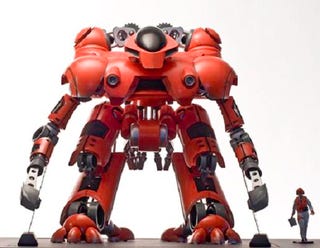 With everybody talking about that up-skirt shot in Transformers where we see Devastator's, um, wrecking balls, it's time to consider the fine history of robot crotches in pop culture. We've got the ten best moments of robo-nethers in history.
This list will give you a powerful injection of robot crotches, real and imaginary. Here you can see concept art of a giant robot designed to put out forest fires. It has four arms and a massive reach. Unclear why exactly it needs that mega-crotch, which I think contains water pistons as well as what seem to be giant graspers in the scrotal region. How would you like your burning trees harvested with that?
Speaking of what you do and do not want harvested, this clip from 1980s classic Cherry 2000 reminds us of the gentle art of the implied robot crotch. Our human protagonist is getting it on with his Cherry 2000 bot, giving us a teeny glimpse of robo-ass before getting all sudsy and humpy with her hidden (but not unused) crotch. Sadly, he hasn't learned the first thing about circuit boards. Water isn't good for them. So his crotch satisfaction is severely undermined.


And then there's another twentieth century classic: Robot Jox. Which is all about people who zoom around inside giant robot armor things, which happen to have crotchly surprises in store for us.



Let's get real again, though. Check out this recently-built Japanese robot, who keeps his human companion safely tucked right between his legs. If you've ever dreamed of being inside robot wood, well this is your chance.