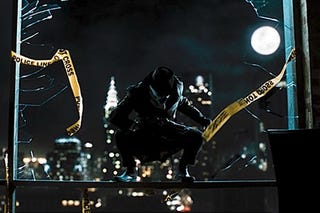 Here's a sign that San Diego Comic-Con has achieved some kind of critical mass - At least two panels from the con are going to be broadcast to everyone who didn't manage to get tickets, as they happen.
News broke earlier this week that G4 would be broadcasting Lucasfilm's Saturday afternoon Star Wars panel as part of their five-hour SDCC coverage, and that news was immediately followed by Warner Bros' announcement that a special SDCC Watchmen screening (also on Saturday) will be streamed as a live interactive BD-Live event for everyone in North America who bought Watchmen on Blu-Ray, allowing them to hear director Zack Snyder's commentary and ask the director questions. Snyder is excited about the event:
Comic-Con, it isn't just [for] comic book fanatics, it's cinephiles as well. It'll be cool to discuss what people are thinking.
With the con already sold out - although Comic-Con has hinted that returned or unclaimed passes may be sold closer to the event this year - and the show's schedule still officially unannounced, we're wondering if these two events are special stunts, or the start of a new way to experience the con without the heat, discomfort and awkward chance of meeting your heroes in the restroom before their panel.
San Diego Comic-Con runs July 23rd through the 26th, with Preview Night on the 22nd.