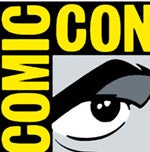 SDCC is just weeks away, and the buzz over who is (and isn't) going to be there is growing. It's not the usual celebs I want to see, however: Instead, it's two particular folks who make media I'm addicted to.
It's a far cry from any normal star-studded event, but SDCC always brings us our own pantheon of SF gods and goddesses every year. For me personally, this includes a handful of stars (Michael C. Hall, David Tennant, Felicia Day) and Creators (Joss Whedon, Alan Ball, J.J. "You-Make-Life-Worth-Living" Abrams) and, above all, the unsung heroes behind-the-scenes like Julie Gardner and Jane Espenson.

The addition of Dr.Who and its naughty little spin-off Torchwood to the SDCC TV panel lineup has already been big news around here lately. While everyone is lining up to see the sexy stars of these two BBC series, I'm going to see the amazing Julie Gardner. Gardner is the executive producer of Who and Torchwood, and helped co-create the latter along with Russell T. Davies. While RTD is leaving the TARDIS for other adventures, Gardner will continue to executive produce the show and help Matt Smith fill David Tennant's Hi-Tops.