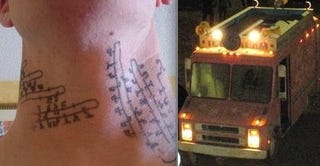 The heavenly war film Legion gives archangel Paul Bettany the task of defending a truck-stop waitress who's carrying the next Messiah, from the other Earth-cleansing angels. Check out the strange tattooed set pics from the present-day Noah's Ark.
Clay Dix, professional stunt man, has a few set pics from the New Mexico location, and it shows the film's infamous ice-cream truck (more on that later). Looks like the last refuge for humanity isn't atop the floods, but in the desert. But what the heck are those crazy tattoos? I'd like to know more, please — fill me in if you're out there Clay. Which team has the cool tatts? The good angels or the bad angels?
We spoke with the movie's big cameo star, Doug Jones many months ago, but we feel his answers really explain what's going on here. Slightly spoilery talk, so you've been warned.