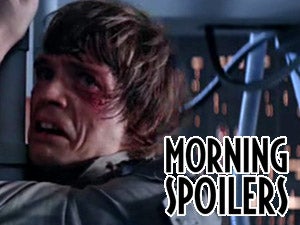 Spoilergeddon is here! New Transformers 2 reviews include mountains of bizarre details. David X. Cohen talks you through Futurama's next season. Supernatural has a very special casting call. Plus Torchwood hints, Reiko Aylesworth on Stargate, and Gamer, V and Heroes.

Transformers: Revenge Of The Fallen:
Some U.K. outlets have gone ahead and reviewed this film, including fair share of spoilers. Total Film says the movie starts out with an "Apocalypto-like prologue" set in 17,000 B.C., and there are sequences in space as well as in New York, Paris and Egypt. There's a forest smackdown between Optimus and three Decepticons that's a thing of beauty to watch. There's ship-sinking a la Pearl Harbor, cities being destroyed as in Armageddon, and a Bad Boys II poster on Sam's dorm room wall.
IGN says we zip between scenes on Cybertron, Sam's first day at college, and drama at various military bases — with robot-on-robot violence in between. And the action is less confusing this time around, really. And IGN agrees that the forest fight scene is the best thing in the movie — and it's an hour in, leaving the remaining 80 minutes a bit of a letdown. And generally, the film is about an hour too long.
The Shizznit says the movie's dialog consists of ridiculous one-liners. The soldiers say things like "Bring the rain!" and the baddies say "This isn't over!". The movie's first half hour is light on robots, but Sam's parents pretty much carry it. The Fallen is spindly and doesn't get much screen time. Devastator, likewise, is underused but at least he looks awesome. Sideways crashes through an apartment building. Bumblebee takes an opponent's head off.
The Mirror says that 17,000 B.C. prologue actually features cavemen fighting robots, which I'm utterly down for. And the sequence where Sam and Mikaela find Jetfire in the Smithsonian comes after that forest fight scene. Also, Megan Fox somehow finds the time to change her jeans during all of the robot battles, so she has blue jeans in the U.S., and white jeans in the desert. Oh, and the movie is crammed with "turgid" backstory.
My favorite part is still the "cavemen versus robots" thing.
And a fan saw the film as well, and posted a detailed reaction over at the TFW2005 boards. Among other things: Barricade isn't in the movie. Megan Fox changes into a white dress and holds some flowers for no reason at one point. The three pink motorcycles never combine into a robot, and then one of them is destroyed. Optimus and Jetfire only combine temporarily during the final battle, and then what's left of Jetfire is damaged. When the battle ends, Optimus removes the Jetfire remains. Jolt appears randomly, and only gets about five seconds of screen time total, and his hands sizzle like Emperor Palpatine's. Sideways only appears in his robot mode for a split second, then changes back to a car, whereupon Sideswipe cuts him in half lengthwise. You see Megatron as a robot, a tank and a jet.
The Twins get the best lines, like "That hurt!" "It's an ass-kicking, it's supposed to!" and "Maybe he's just a pussy!" And when they see Devastator: "Look at that motherf—" (followed by an explosion). Meanwhile, the British-accented Jetfire says "Oh, bollocks" and "I'm too old for this crap." Sadly, the "Sam's mom gets stoned" scene is a waste of time, and Devastator is totally wasted in the film. Also, there's a "WTF" scene where "Sam dies and goes to Autobot heaven." [TFW2005 via IESB]
Gamer:
Here's a new still from this human-video-game movie, which is pretty similar to the one we premiered a while back, only flipped over. [IGN]