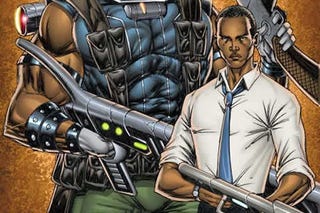 With the middle of the year having fallen earlier this week (July 2nd for the curious), it's time to take stock, look back and wonder: What has 2009 taught us so far?
Here are five pieces of wisdom that we've gleaned from the last six months (and handful of days):
President Obama Is The Greatest Hero Of All
As his many comic book appearances have demonstrated, there's no end to our current president's ability to save the world from any genre of threat. Amazing Spider-Man has him fighting supervillains, Youngblood shows him carrying massive laserguns to shoot renegade soldiers taking over the White House, Drafted gives us an alien-invasion-battlin' Barack and Barack The Barbarian brings everything back down to sword and sorcery basics. He's like a modern-day Arnold Schwarzenegger - and enough to make us wonder just how the comic industry would've dealt with John McCain winning the election instead.
Threats To Humanity Are Getting Weaker
Last year, it was the Large Hadron Collider and the possibility that it would rip existence apart when someone flipped the switch, and this year, it was... Swine Flu. It can't just be me, can it? I mean, Swine Flu... Doesn't that seem like a step down from the technological "Our Quest For Knowledge May Destroy Us All" conceptual genius that threatened us last year? Even calling it "the H1N1 Influenza Virus" still sounds kind of shit. Okay, so there's no chance of "hardon" spoonerisms, but still: Pandemics? Haven't we done that already? I'm holding out hope that sewer monsters will brighten the remaining months of the year, however.