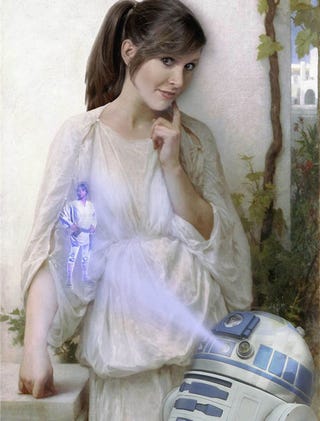 Now that both Batman and Star Trek have enjoyed cinematic reinventions, it's only a matter of time before Hollywood reboots the franchise that rebooted entertainment itself. Here's how the inevitable Star Wars reinvention could be fantastic instead of embarrassing.
So wait, why reboot Star Wars? I'm sick of the reboots. Movies are getting as crash-happy as my Macbook.
Oh, whine whine whine. Too many remakes, sequels and reboots. "Poor me, the entertainment industry is trying to pander to me by recreating the entertainments of my childhood, or in some cases my grandparents' childhoods." I know, it sucks to be you. But look at it this way: a lot of these entertainment franchises need the occasional reboot, because they've been running for decades and are struggling to run the latest firmware. "Women's lib" made Wonder Woman go BSOD several times in the 1960s, and more recently she's been as crash-prone as a J.J. Abrams airplane.
Actually, Star Wars is the perfect example of what happens to a long-running franchise that doesn't get rebooted. You keep adding more and more trendy stuff to the mix, piling on extra chunks of mythos and bits of backstory, and inflating the importance of minor characters until they overwhelm the narrative. (Jango Fett?) It's not the creators' fault, necessarily. It's just what happens when you try to keep a complex universe running for decades without restarting.
Eventually, your once-shiny universe gets to the point where you have to shut it down forever, or do a hard restart. And there's too much money in these old juggernauts to shut them down.
But... But... George Lucas will never go for it!
He will, once he runs out of money. It's just a matter of time. Those life-size solid-gold Yoda bidets don't pay for themselves, you know. (With the proximity activation, and the voice that says, "Wash your bottom, you will." That's expensive stuff.) All it'll take is another few insane Star Wars projects, like another big-screen Clone Wars movie and another three Star Wars TV shows that he's financing out-of-pocket. Chances are, he's already completed a few thousand scripts for his live-action Star Wars show, which takes place between the prequel trilogy and the original trilogy and probably includes a whole set of episodes about Jar Jar Binks visiting the Ewoks.
Eventually, Lucas will need some walking-around money, and the studios will put pressure on him, and someone will come up with an offer he can't refuse. It'll probably allow him to keep his original version of the galaxy far, far away chugging along. It'll be like the Ultimate Marvel Universe, or Smallville: a new reimagined version of the franchise, even as the original version keeps trundling. Call it Star Wars: Extreme. Or Star Wars: Ultraspace. Or maybe Star Wars: Even Farther Away.
Okay, so the Star Wars reboot is inevitable, if not imminent. What makes you think it could possibly be a good thing?
It could be horrendous, sure. But it doesn't have to be, and that's what this primer is about. A few years from now, when Lucas and the suits are having meetings about creating Star Wars 2.0, there are a few simple rules for how to avoid a painful Stepford Wives or Planet Of The Apes boondoggle. (Probably not including Nicole Kidman is a good place to start.)