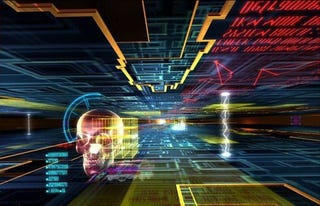 Is there life after death? Maybe, if you're wired. After all, death is just a failure of storage media. Science fiction is full of people who've died in meatspace, only to live on in cyberspace. Here's our inventory of cyber-Heaven.
As the Cyberpunk Project writes in an essay called "Neuromancer Afterlife":
"I am the dead, and their land."

With life redefined, so comes a new afterlife. New gods, new demons, new inhabitants. And many different levels, reincarnations. The body can be remade, copied, clones carry on the family line. Cold sleep, cryogenics extending presence, slow wasting. Cons tructs, down loads of the soul, ghosts. Digital purgatory, brain death.

"For thousands of years men dreamed of pacts with demons. Only now are such things possible."

Omnicient, omnipotent, omnipresent. Demons or gods, they possess power. They are worshipped and feared. The AIs. Religion has advanced with technology, heaven and hell can be interfaced with, the powers addressed. Science has brought back that which was previously done without. Some hint o f symbiosis, of the immortal hive. Others fear them like the lords of Hell. To themselves, they just are. They exist, they reside. They are the infinity of angels on the head of a pin, the threads of the matrix. They, It, is All.

"To live here is to live. There is no difference."

Memories are virtual, we relive them without physically manifesting. Perhaps the mind can be reproduced, decanted into a simulated environment. Perhaps what we ta ke for granted every day is such an experience. It is the age old question of who we are. How do we define ourselves? Bits, bytes? By the flow of information, by wiring, by memory, data? In the Virtual age, what do we become? And were do we go? Is this salvation?
Several people in Neuromancer by William Gibson. Super-hacker Case meets his girlfriend Linda Lee, who was murdered in Chiba City, but her consciousness lives on in the cyber-matrix. And then he and his friends have to steal a ROM containing the personality and memories of McCoy Pauley, aka The Dixie Flatline. And at the end of the book, mocking inhuman laughter suggests that Pauley may have been reanimated permanently in cyberspace, thanks to the help of Neuromancer/Wintermute. As one book puts it, he gets an unsettling vision of his life continuing in cyberspace after his body dies.
Reno in Hardwired by Walter Jon Williams. This uber-hacker dies in the "real" world, but his consciousness lives on in cyberspace, and even manages to ambush the bad guys electronically at the end of the novel.

Pulse (movie). A haxx0r named Josh steals and distributes (why?) a computer virus that opens a portal to the world of the dead. And then he commits suicide, but he keeps popping up on the computer, sending people messages and videos and mortgage-refi spam. (It was 2006.) And later in the movie, you can see spooky dead children trapped inside the computer, and the implication is that the computer is trapping their dead spirits. The only way to escape is to get out of cellphone coverage, because the cellphones have it too. Veronica Mars, why don't you just use your awesome sleuthing skills to solve this one?

River Song and friends in Doctor Who, "Forest Of The Dead". River Song does the time-honored thing of knocking the Doctor out so she can take his place in the brain-frying machine and get cooked to a sizzle. But luckily, FutureDoctor has left a handy escape clause that PresentDoctor can use to bring her back from the dead: her fancy sonic screwdriver retains a copy of her consciousness, and he's able to upload her into the planet-sized library's computer system, where she's stuck taking care of a couple of snot-nosed virtual kids forever. Way better than being dead, right? Right?

Eva Friedel in Memories: Magnetic Rose. This famous opera singer retires to a space station, but when she dies, she leaves behind an A.I. imprint of her personality. Unfortunately, it's damaged and incomplete.

The Mailman and Ery in "True Names" by Vernor Vinge. The Mailman backs up his brain into the system, but his consciousness runs so slow, he only manages to experience fifteen or twenty hours of human awareness in the several years he's running online. Ery plans to do the same thing, only better:
She was grinning now, an open though conspiratorial grin that was very familiar. "When Bertrand Russell was very old, and probably as dotty as I am now, he talked of spreading his interests and attention out to the greater world and away from his own body, so that when that body died he would scarcely notice it, his whole consciousness would be so diluted through the outside world.

"For him, it was wishful thinking, of course. But not for me. My kernel is out there in the System Every time I'm there I transfer a little more of myself The kernel is growing into a true Erythrina, who is also truly me. When this body dies," she squeezed his hand with hers, "when this body dies, I will still be, and you can still talk to me."
The story's hero, Mr. Slippery, thinks about stopping her, but realizes this is an inevitable end-point of human evolution.
Dr. Londes and his cult in Cowboy Bebop, "Brain Scratch." The imaginary Dr. Londes starts a cult that believes in achieving immortality by digitizing your brain and zapping it up to the network. But it turns out Dr. Londes doesn't exist at all, he's just a construct.

Alex McCandless in Freejack. In this movie, which is almost more awesomeness than two hours can contain, Emilio Estevez is a racecar driver who is about to die in a spectacular crash, but his body is whisked forward in time to the dystopian future of 2009. He's held prisoner by Mick Jagger, and it turns out that Anthony Hopkins wants his body. Because Hopkins died in an accident while on a business trip, and his mind is preserved in cyberspace, where he and Estevez face off in a virtual world. Can Estevez keep Hopkins from downloading himself into his body?

Moloch in Buffy The Vampire Slayer, "I, Robot... You, Jane." Somehow scanning a demonic spellbook causes the trapped demon to get scanned into the interweb, and it starts having steamy chats with Willow. Ah, cyberlove.

Kenshiro "Zero" Cochrane in Ghost Rider 2099. Zero is a hacker in the futuristic world of Marvel's 2099 universe. He gets hit with a poisoned flechette in Transverse City, but as his body dies, he jacks his consciousness up to the cyberverse. A group of A.I.s living in Cyberspace — in an area known as the Ghostworks — retrieve Zero's concsiousness and download it into a fancy new robot body, to become Ghost Rider 2099, the cyber-spirit of cyber-vengeance. It's cyber!
Almost everyone in "Sweats" by Keith Brooke, in the anthology We Think Therefore We Are. In this story, everybody (or at least everybody rich) gets to go to a virtual afterlife after dying, which also allows a murder victim to prosecute (and persecute) his murderer after death. Even up to the point of stealing his murderer's body and downloading himself into it.