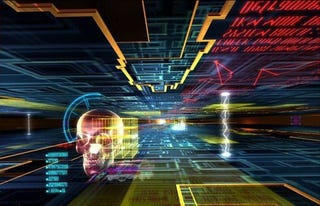 Is there life after death? Maybe, if you're wired. After all, death is just a failure of storage media. Science fiction is full of people who've died in meatspace, only to live on in cyberspace. Here's our inventory of cyber-Heaven.
As the Cyberpunk Project writes in an essay called "Neuromancer Afterlife":
"I am the dead, and their land."

With life redefined, so comes a new afterlife. New gods, new demons, new inhabitants. And many different levels, reincarnations. The body can be remade, copied, clones carry on the family line. Cold sleep, cryogenics extending presence, slow wasting. Cons tructs, down loads of the soul, ghosts. Digital purgatory, brain death.

"For thousands of years men dreamed of pacts with demons. Only now are such things possible."

Omnicient, omnipotent, omnipresent. Demons or gods, they possess power. They are worshipped and feared. The AIs. Religion has advanced with technology, heaven and hell can be interfaced with, the powers addressed. Science has brought back that which was previously done without. Some hint o f symbiosis, of the immortal hive. Others fear them like the lords of Hell. To themselves, they just are. They exist, they reside. They are the infinity of angels on the head of a pin, the threads of the matrix. They, It, is All.

"To live here is to live. There is no difference."

Memories are virtual, we relive them without physically manifesting. Perhaps the mind can be reproduced, decanted into a simulated environment. Perhaps what we ta ke for granted every day is such an experience. It is the age old question of who we are. How do we define ourselves? Bits, bytes? By the flow of information, by wiring, by memory, data? In the Virtual age, what do we become? And were do we go? Is this salvation?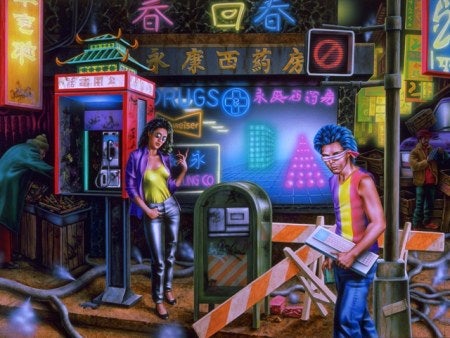 Several people in Neuromancer by William Gibson. Super-hacker Case meets his girlfriend Linda Lee, who was murdered in Chiba City, but her consciousness lives on in the cyber-matrix. And then he and his friends have to steal a ROM containing the personality and memories of McCoy Pauley, aka The Dixie Flatline. And at the end of the book, mocking inhuman laughter suggests that Pauley may have been reanimated permanently in cyberspace, thanks to the help of Neuromancer/Wintermute. As one book puts it, he gets an unsettling vision of his life continuing in cyberspace after his body dies.
Reno in Hardwired by Walter Jon Williams. This uber-hacker dies in the "real" world, but his consciousness lives on in cyberspace, and even manages to ambush the bad guys electronically at the end of the novel.

The Mailman and Ery in "True Names" by Vernor Vinge. The Mailman backs up his brain into the system, but his consciousness runs so slow, he only manages to experience fifteen or twenty hours of human awareness in the several years he's running online. Ery plans to do the same thing, only better:
She was grinning now, an open though conspiratorial grin that was very familiar. "When Bertrand Russell was very old, and probably as dotty as I am now, he talked of spreading his interests and attention out to the greater world and away from his own body, so that when that body died he would scarcely notice it, his whole consciousness would be so diluted through the outside world.

"For him, it was wishful thinking, of course. But not for me. My kernel is out there in the System Every time I'm there I transfer a little more of myself The kernel is growing into a true Erythrina, who is also truly me. When this body dies," she squeezed his hand with hers, "when this body dies, I will still be, and you can still talk to me."
The story's hero, Mr. Slippery, thinks about stopping her, but realizes this is an inevitable end-point of human evolution.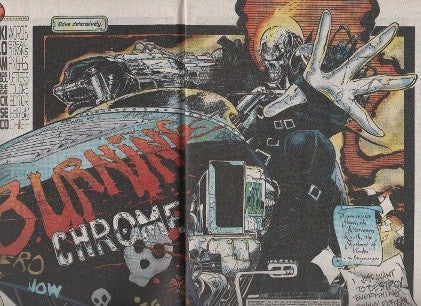 Kenshiro "Zero" Cochrane in Ghost Rider 2099. Zero is a hacker in the futuristic world of Marvel's 2099 universe. He gets hit with a poisoned flechette in Transverse City, but as his body dies, he jacks his consciousness up to the cyberverse. A group of A.I.s living in Cyberspace — in an area known as the Ghostworks — retrieve Zero's concsiousness and download it into a fancy new robot body, to become Ghost Rider 2099, the cyber-spirit of cyber-vengeance. It's cyber!
Almost everyone in "Sweats" by Keith Brooke, in the anthology We Think Therefore We Are. In this story, everybody (or at least everybody rich) gets to go to a virtual afterlife after dying, which also allows a murder victim to prosecute (and persecute) his murderer after death. Even up to the point of stealing his murderer's body and downloading himself into it.

Magi in Neon Genesis Evangelion. The supercomputer "Magi" is created from the mind of Ristsuko Akagi's dead mother. It has "the mother, the scientist and the woman" balancing out its brain. Also, two of the "Evas" are made from the souls of two characters' dead moms.
Roushana Maitland in Song Of Time by Ian R. MacLeod. The protagonist of this year's Arthur C. Clarke Award-winning novel is a concert violinist who's about to pass into a "virtual afterlife," when she discovers a half-drowned man on the Cornish coast.
Everyone, in Silicon Karma by Thomas A. Eaton. Someone invents a viable mindscanning technology, which means that everyone goes to cyberspace after he/she dies. And of course, naughty people learn how to hack the afterlife and mess up everyone's experience of Heaven.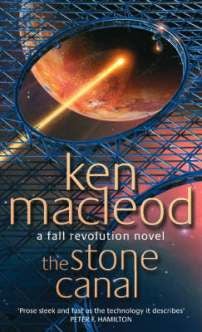 Jonathan Wilde, in The Stone Canal by Ken MacLeod. Any novel that starts with the line, "He woke, and remembered dying" automatically earns inclusion on this list. In Stone Canal, the anarchist leader Jonathan Wilde lived on Earth 600 years ago, but a group of radicals retrieve his consciousness from online, and put him into a new body. The only trouble is, this new Wilde isn't quite the same person as the original.
A few people in Ghost In The Shell: S.A.C. This anime series features a few people who die but have their consciousnesses saved in virtual networks. For example, in Ghost In The Shell: SAC: Solid State Society, Koshiki gets permission to work from home via a cybernetic body. And then he dies due to illness, but it's two years before anyone notices, because his cybernetic body keeps going under his control, and his consciousness appears to be preserved.

Frankie in "Xanadu" by Thomas M. Disch. Frankie dies and finds his consciousness uploaded to a virtual world. It's all sunshine and puppies at first, until the company that runs this afterlife falls on hard times and needs to raise some more capital. Suddenly, all of the people in cyber-Heaven have to work for a living again — and due to a clerical error, his consciousness is downloaded into a woman's body and he has to work as a prostitute. Probably not the eternal reward he had in mind.
Mr. Hormel in "New Hope For The Dead" by David Langford. In a similar vein, Mr. Hormel is a fully paid-up resident of the digital afterlife, with a trust fund in place to guarantee his eternal rest. Unfortunately, the global economy takes a nosedive, and he's faced with three choices: going into storage as a .zip file until the economy improves, having his clock/processor speed slowed down so that a century passes in a few weeks for him, or working for a living. And the third choice isn't even as fun as it sounds. (You can read the whole thing here.)
Everyone in The Accord by Keith Brooke. The Accord is a virtual realm, where you can upload your consciousness, so it'll live on after you die. (As someone in the novel says, "If you want to enter Heaven, first you must be saved." Ha ha.) Noah has an affair with Priscilla inside the Accord, but her husband finds out and murders her. Noah kills himself so he can be with her in the Accord — but there's a catch. The version of you in the Accord isn't who you were at the moment of death, but who you were the last time you uploaded. The Priscilla who lives on inside the Accord is younger and doesn't remember loving Noah at all. This novel takes place in the same universe as "Sweats," mentioned above.
Paul Durham and others, in Permutation City by Greg Egan. (Thanks to WRyan for suggesting this one.) In the future of 2045, rich people are backing up their brainwaves into complete duplicates, known as Copies, and the Copies have started agitating for full personhood and civil rights. Along comes huckster Paul Durham, who proposes to create a virtual-reality city for the wealthy to live in. Durham disembowels himself in the bathtub, but thousands of years later he's still bopping around Permutation City.
Additional reporting by Alexis Brown. Thanks also to Zack Stentz, Rus McLaughlin, Jack Random, Tim Chevalier and @NoMentionOfKev, @anewthought, @Lazybastid and @cartoonmoney on Twitter.