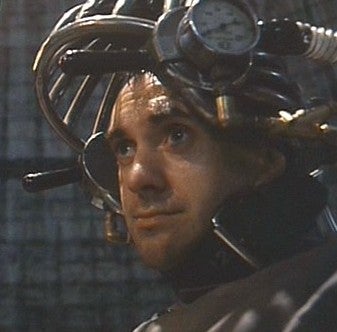 Yesterday, we looked at six characters who seemingly managed to escape virtual prisons. Now, we'll make it an even dozen as we examine another sextet of science fiction heroes that may or may not still be stuck inside their own minds. Spoilers!
1. John Anderton, Minority Report
The Setup:
In the year 2054, John Anderton is the chief of Washington DC's elite precrime unit, which uses three psychics to predict when murders will occur and thus prevent them. Arrested for a murder he actually did sort of commit (which is way rarer than it sounds), Anderton is placed in suspended animation in the Precrime holding cells. The case seemingly closed, his longtime mentor Lamar Burgess goes to comfort Anderton's estranged wife Lara, but accidentally lets slip a crucial detail that suggests he knows far more than he is letting on.
Lara, finally believing John's claims of a deeper conspiracy, goes to free him from his cell. It's then full speed ahead to the film's conclusion, where Anderton confronts Burgess and places him in a no-win situation, where the only way to save his beloved Precrime will mean destroying it forever. Burgess kills himself rather than face such a prospect, and Precrime reforms itself, setting free everyone it was holding captive. But did Anderton ever actually get released from his cell, or was this all just a fantasy he created?
The Case For:
Somewhat unusually for a project rooted in a Philip K. Dick short story, Minority Report isn't particularly interested in the nature of reality, at least not in the way we're talking about here. Instead, most of the film concerns itself with debating predetermination versus free will, which is a different philosophical question from whether or not the events we experience are real. As such, it doesn't really make much thematic sense, and there's only the flimsiest of circumstantial evidence to suggest Anderton fantasized the whole thing.
Besides, this is Steven Spielberg we're talking about, not David Cronenberg (but more on him in a little bit). It just isn't really his style to reject the reality of his own films. If anything, Spielberg's fantasy and science fiction oeuvre is defined by accepting everything as real, no matter how preposterous.
The Case Against:
Still, that really is an impossibly easy ending. After spending a solid ninety minutes doing nothing but running and hiding from the implacable Precrime officers, the escaped John Anderton has no trouble leaving their facility or breaking into the impressively ritzy social event Burgess is at. Everything just falls into place a bit too neatly, considering pretty much nothing came easy for the first two-thirds of the film. Perhaps the end of Minority Report is a bit like the end of Adaptation - its sheer implausibility is the biggest clue that it isn't exactly happening the way you see it.
Chances That It Really Happened:
90%. A lot of recent Spielberg films have had somewhat weak conclusions, including Munich, War of the Worlds, and Indiana Jones and the Kingdom of the Crystal Skull, and you don't see anybody claiming those endings didn't happen. Well, plenty of people prefer to believe Kingdom of the Crystal Skull never happened at all, but that's a different issue.
2. Bender, Futurama
The Setup:
In the episode "Obsoletely Fabulous", Bender is sent back to the factory to receive an upgrade that will make him compatible with the new Robot 1-X. Unwilling to go through the painful, personality-altering upgrade, Bender goes on the run, eventually winding up on an island full of obsolete robots. Forsaking his own technological nature, Bender downgrades himself, replacing his metal parts with wood.
After launching an attack on civilization, Bender and his primitive cohorts end up at the Planet Express building, where they manage to do far more harm than even Bender really intended. All of his friends trapped in a raging inferno, a now useless Bender is forced to call upon the aid of Robot 1-X, finally making him realize the new robot has his uses. At that point, he snaps back to the factory, where he is informed the whole thing was just a hallucination, his robotic mind's way of coming to terms with and accepting Robot 1-X. This forces Bender to ask the philosophical question:
If that stuff wasn't real, how can I be sure anything is real? Is it not possible, nay probable, that my whole life is just a product of my or someone else's imagination?
It's a valid question - is any of Futurama real?
The Case For:
Absolutely, yes, all of it is real. By which I of course mean no, none of it is. Much as I'm sure it pains all of us to admit it, Futurama is just a TV show. So, technically speaking, I suppose none of it is actually real. But that's not what we're dealing with here. Much as Bender's line represents a great bit of meta humor, it isn't really meant to call into question whether the "actual" events of Futurama are any less real than any other TV show in the same way that, say, the "Normal Again" episode of Buffy the Vampire Slayer did. Am I the only one who's horribly confused by all of this? If nothing else, I need to find some more synonyms for "real."
The Case Against:
The end of the episode finds Bender walking back into the slums of New New York City, which he chooses to see as a beautiful meadow full of friendly woodland creatures. Beyond the fact that that sort of seems like an odd choice for Bender's perfect world, Bender's newfound belief that "reality is what you make of it" really does suggest that, on some metaphysical level, Futurama is all just some idle fantasy.
Chances That Futurama Really Happened:
90%. In the end, you've got to trust in the robot technician's brusque response to Bender's philosophical query: "No, get out. Next!" A man that coolly competent probably has a pretty good handle on the ways of the universe. Now, as to whether Leela ever really recovered from the space bee sting, well...that's another matter entirely.
3. Ed Straker, UFO
The Setup:
In, "Mindbender", one of the best episodes of this British cult classic about an elite but underfunded paramilitary force fighting mysterious aliens (which I've already waxed lyrical about in a previous post), SHADO recovers a bizarre artifact from the surface of the Moon. All those who touch it experience ultra-realistic hallucinations. After two men are killed because they started shooting at fellow SHADO personnel, thinking they were the enemy, Commander Ed Straker takes possession of the strange object.