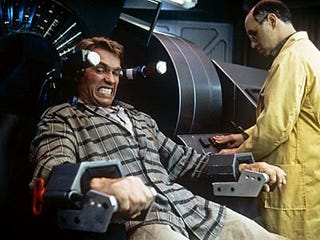 It's the ultimate test for any hero: finding yourself trapped in a prison of the mind, where you can no longer tell the difference between reality and falsehood. Here are six science-fiction heroes who escaped from virtual reality...probably. Spoilers ahead!

1. Douglas Quaid, Total Recall
The Setup:
After visiting Rekall in the hopes of going on a virtual vacation of Mars, unassuming nobody Douglas Quaid learns he's actually Hauser, a mindwiped secret agent. He then proceeds to get his ass to Mars, whereupon he becomes embroiled in a tangled web involving evil government operatives, psychic mutants, ancient aliens, and triple-breasted prostitutes. It's all very tense and exciting until a man claiming to from Rekall shows up to point out this is all just the memory implant he ordered gone horribly wrong.
Quaid dismisses this possibility, but the question remains - did he ever actually make it out of Rekall?
The Case For:
Director Paul Verhoeven has occasionally confirmed that the movie really happened, but that was mostly when it looked like the film was going to get a sequel. Perhaps the best evidence that the events seen actually happened is that Arnold Schwarzenegger played Quaid. In the end, is it really any more believable that a guy as impossibly ripped as Schwarzenegger was just a lowly construction worker than that he was a secret agent? And there is the fact that Quaid was dreaming about something similar to his supposedly recovered memories before he ever went to Rekall, but even the movie acknowledges how weak it is to use a dream to disprove virtual reality.
The Case Against:
The guy who claims to be implanted by Rekall to get Quaid out of his broken mind trip not only correctly points out everything that had happened was in line with the adventure Quaid chose, but he also accurately predicts the rest of the movie. (Quaid's logic in this scene also leaves something to be desired. People in virtual reality can't possibly sweat! Shoot him in the head!) For that matter, a Rekall technician at the beginning of the movie says the memory simulator has brought up the unprecedented element of blue skies on Mars for Quaid's trip. And guess what we see at the end of the movie right before the scene fades to white...
Chances That It Really Happened:
10%. Sorry, Quaid, I don't believe you'll be seeing Richter at the party after all.
2. Sam Tyler, Life On Mars (US Version)
The Setup:
The final episode of the American version of Life on Mars offered a rather unexpected resolution to just what had been going on with Sam Tyler all this time. As it turned out, he was neither a cop from 1973 nor one from 2008. Instead, he was part of the first manned expedition to Mars in 2035 and the virtual reality simulation meant to keep his mind busy during the two year trip to the red planet had gone haywire, accidentally sending him from his chosen reality of 2008 to 1973. His friends in 1973 had really been his fellow crew members, and Gene Hunt was really his father, Major Tom Tyler. But was this real, or just another coma fantasy?
The Case For:
To be fair, the makers of Life on Mars had set up this possibility for much of the series, what with all the Mars Rover stuff. Say what you will about the ending, but it wasn't completely random, and the act that Sam immediately accepts this new reality suggests it's the one he expected to find all along, deep down.
The Case Against:
For a start, there's that shot of the loafer as they step out onto the Martian surface right at the very end. It doesn't prove anything, but it undermines the supposed reality of the situation. And then there's the fact that this vision of 2035 really, really seems like the kind of thing a dude in 2008 would come up with. I mean, President Obama? I've already dealt with the logical gymnastics you have to do to get Malia Obama into the White House for her to send off a space mission in 2033. It seems just as likely that 2008 Sam simply came up with one of the very few recognizable names who could be president in 2035.