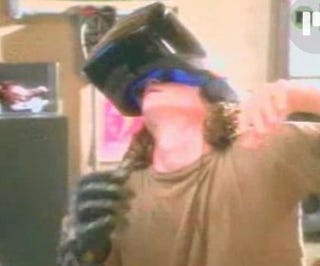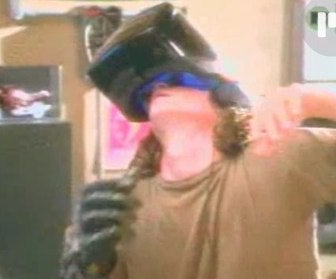 Who can forget Jeremy London's virtual cigarette, after having fake sex with Alicia Silverstone to Aerosmith's "Amazing"? Some of the best and worst virtual world-building has come from the music video industry. Strange virtual music worlds, we salute you.
The Good:
Radiohead - "House of Cards"
Virtual Thom Yorke head? Yes please. Geometric Informatics and Informatics and Velodyne LIDAR was used to create this gorgeous virtual head.
Geometric Informatics scanning systems produce structured light to capture 3D images at close proximity, while a Velodyne Lidar system that uses multiple lasers is used to capture large environments such as landscapes. In this video, 64 lasers rotating and shooting in a 360 degree radius 900 times per minute produced all the exterior scenes.
Michael Jackson - "HIStory"
A virtual world full of Michael Jackson videos? Count me in, but only if I get to dance with King Eddie Murphy from ""Remember the Time."
Dire Straits, "Money For Nothing"
This block-headed virtual world makes me yearn for the simpler days when MTV actually played music videos, including a computer generated world that made the cast from Reboot look impressive.
Remind Me from Röyksopp on Vimeo.
The So Bad It's Kind Of Good
So what are your favorite (and least favorite) music-video virtual worlds?