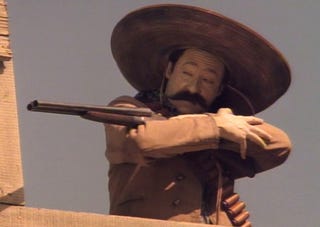 It's a terrible cliche — the television episode where our intrepid hero goes inside the cyber-world and things start going terribly wrong. Star Trek owns the holographic disaster story, with its litany of holodeck mishaps, but plenty other shows have gone there. Here are the 10 worst holodeck stories. Ever.

Nowhere Man, "A Rough Whimper Of Insanity":
This short-lived 1990s show starred Bruce "Captain Pike" Greenwood as a guy who discovers the U.S. Army is being naughty, and suddenly he gets erased from existence. Even his wife no longer knows him. In one episode, "A Rough Whimper Of Insanity," he meets a hacker who can help him discover the truth. (And the episode's title is an anagram of "Information Superhighway." Clever, eh?) First the nice hacker takes Bruce into the virtual world, where he can meet a VR reconstruction of his long-lost wife. He feels the wind on his face and dances with his sweetheart, and it all feels so real... until she fades away. And then later, the duo goes inside the computer architecture and searches for the secret files on what happened to Captain Pike... except that the world starts shaking and falling apart, like an earthquake. It's the bad guys deleting the system! Oh noes!
VR Troopers, "Defending Dark Heart":
The VR Troopers was a sister show to Mighty Morphin Power Rangers, about a group of power rangers who fight evil — in the virtual world! In this episode, they get caught in a deadly trap inside virtual reality, which seems to consist of some spikes coming out of the wall. I especially love the way the evil corporate guy clutches a crystal ball to transform himself into his long-haired, evil wrestler persona and return to VR:

Cleopatra 2525, "Reality Check":
Total awesomeness! Cleopatra wakes up and she's back in the year 2001, with her old boyfriend. He tries to convince her that her futuristic life in the year 2525 never really happened, but it turns out she's actually trapped in a virtual reality simulation, and none of it is real! OMG! You can watch the whole episode here, if you're in the correct country:


Transformers Armada, "The Chase":
A bunch of characters you've never heard of, including one named The Rad, get trapped in cyberspace and attacked by Sideways and a guy that looks like Unicron (but isn't, I think). I love that they're biking through cyberspace. Bikes are a common feature in the cyber-world, as you'll discover below. At first, it's just a wacky grid thingy, but then there are planets and moons and weird swirlies and crazy shapes. D00d!

Stargate SG-1, "The Gamekeeper":
Oh wow. This episode has everything. The entire population of a world being kept inside pods and living in virtual reality full time, like in The Matrix? Check. Our heroes get sucked into the VR world too? Check. They're forced to relive their traumatic memories? Check check check, including a trip back to the barbaric era of 1982. And then they escape from the virtual world — only to realize they're still in the VR simulation after all? Check! And finally, the planet's inhabitants don't realize their world is safe to inhabit again, believing it's still ruined by the aftermath of some cataclysm. It's STUFFED WITH GOODNESS!

Doctor Who: Trial Of A Time Lord, "The Ultimate Foe":
We already praised the seminal 1976 story "The Deadly Assassin," where the Doctor travels inside the virtual world of the Matrix for the first time. But Oh. My. Guardians. This 1986 followup is putrid. The Colin Baker version of the Doctor ventures into the Matrix once again, only to find himself in a crappy Dickens Fair adorned with a fugly neon sign, where the evil Valeyard is trying to humiliate him with waiting rooms. And stuff. It's all so the Valeyard can use a "megabyte modem" inside the virtual world to, uh... mess shit up. To be fair, this whole script was written in a weekend after the original writer died, and the replacement writer quit.