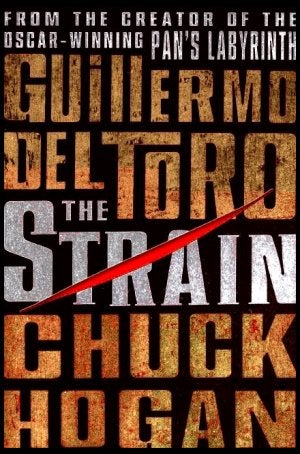 Pan's Labyrinth director Guillermo Del Toro and novelist Chuck Hogan have written The Strain, the first book in a vampire trilogy. And the good news is, their spin on vampires comes with a noticeable creep factor, despite silliness. Spoilers below.
This book began life as a TV series pitch to FOX, a few years back. Del Toro scoffs at the romanticized image of the vampire that infests modern media, and wants a return to the dark folkloric roots of the creatures. He isn't alone: many of us are sick of these pale and pretty poseurs, brooding about their cursed immortality and chatting up jailbait by the Orange Julius. Oh sure, they can go all scary cat-face, just before they fight cheerleaders, but usually they look like they're trying to get a record deal. Honestly, what happened to the Horror? Someone who considers you a source of protein is not a good role model.
It's common to lay the blame for all this at the feet of Anne Rice, but it goes back further than that. Bela Lugosi's dapper aristocrat, dressed for a night at the opera, lunges to mind. The original Dracula is responsible for much of the bodice-ripping and doomed-love themes that still flit around the genre. The appearance and mannerisms of Count Dracula were inspired more by Bram Stoker's relationship with the stately and imposing actor Henry Irving than any actual Eastern European folklore.
Del Toro and Hogan pay tribute to Stoker's classic, while presenting a more primal depiction of the undead as figures of repugnance and terror. At the same time they borrow heavily from Richard Matheson. His excellent I Am Legend was the perhaps the modern novel first to deal with vampirisim scientifically, as a disease. It was made into an enjoyable film in 1964. While not exactly groundbreaking, The Strain combines the ancient stories that scared the kreplach out of our peasant ancestors, with our modern and wholly rational panic about plagues. The attempt is somewhat effective, although it falls short of the vampiric reinvigoration del Toro and Hogan seem to desire.
It begins on the 24th of September, 2010. Echoing the arrival of the Demeter in Dracula, a Regis Air 777 lands at JFK with no lights, and sits on the tarmac with all the window shades drawn. There is no communication from the airliner, not even a single cellphone call from the passengers. Everyone at the scene feels an ominous dread. When local and Federal authorities get inside the plane, all 210 people on board appear dead. Fearing the worse, Dr. Ephriam Goodweather of the CDC is summoned. Ephraim is a recovering alcoholic and is recently divorced. He'd much rather be spending a weekend with his beloved son but duty calls. At the site he and fellow epidemiologist Nora — who is totally hot — suit up and investigate the scene.
There is no sign of panic, violence, or trauma on the plane. Only four people are found alive, but unconscious. When they come to, they have no recollection of anything odd, and complain about sore throats. But since they seem fine, they're allowed to go home. Only the fourth survivor, flight crew member Captain Redfern (like Renfield, get it?), agrees to stick around the hospital to help Ephraim with his inquiries. The deceased are sent to morgues in four of the City's five boroughs and examined for peculiarities. None of the bodies shows any sign of rigor mortis or decomposition. There is still a slight but measurable core temperature, and everyone has a hairline laceration, mostly on the neck. All their blood has been replaced by a turgid white ichor. There are also significant ongoing changes to the internal organs, and a strange growth on the vestibular folds above the larynx.
"Well, good work everybody, let's call it a night and get a fresh start tomorrow. No, I don't think we need to take any extra precautions. The night shift will give us a call if anything odd happens. 'Bye!"
Meanwhile back at the plane, three pieces of undocumented luggage have been found in the cargo hold. There's a kayak, a set of golf clubs, and a huge, long black wooden box covered with grotesque carvings exuding a miasma of menace. The bomb squad finds only a layer of rich soil inside, so they chuck it in an outbuilding with no security and only one camera. What the hell, really? Del Toro has stated he wanted the procedural feel of shows like CSI for this story. Given that series' regard for protocol and scientific accuracy, I'd have to say he got it 100%. Sure, this is a world where nobody believes in vampires but wouldn't extraordinary circumstances call for, oh I don't know, extraordinary measures? I think the golf clubs are sent to Broom Lake for further study.