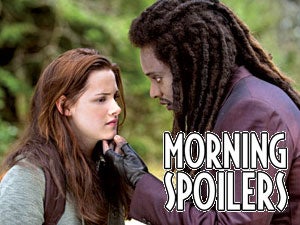 We survived three whole spoiler-free days! To make it up to you, there are Transformers 2 videos, plus Dan Aykroyd explains about Ghostbusters 3. Doctor Who's David Tennant may attend a shocking ceremony. There's a Land Of The Lost clip. Plus: Looper, Gamer, Lost, V, Twilight, Heroes and True Blood.

Transformers: Revenge Of The Fallen:
A new trailer appeared in front of Terminator Salvation, and here it is:

And here's a new TV spot. Hoping for better quality soon:

And here's a new IMAX poster, plus some new stills that reveal the movie will feature (wait for it) explosions and cars. I'm actually kind of excited. [SpoilerTV-Movies]

Ghostbusters 3:
Talking to the Guardian, Dan Aykroyd spilled a few new details about the "new generation" of busters, including the fact that the leader will be a woman:
There'll be a whole new generation that has to be trained and a leader that you'll all love when you meet her. There'll be lots of cadets, boys and girls who'll be learning how to use the neuron splitter and the inter-planet interceptor - new tools to enable them to slip from dimension to dimension.
Also, Aykroyd said that Bill Murray refused to come back unless Ernie Hudson had as big a role as the other original guys. [via Slashfilm]
Land Of The Lost:
Here's a new clip from this June 5 movie, featuring Chaka trying to warn our heroes against a Sleestak ambush. (Sorry, non-U.S. people!) [MTV]
Click to view

Looper:
Rian "Brick" Johnson describes his science fiction movie again:
It's sci-fi, but it's not huge sci-fi. It's more — just in terms of the scale — it's closer to Children of Men. It's set in the near future and the main sci-fi element of it is time travel. So that presents all sorts of interesting narrative challenges. It presents a lot of headaches in terms of the writing. It's fun, though.
[LAist]
Gamer:
Mimi Michaels describes her role in this film from the Crank guys:
That promises to be one exciting thriller. Lots of action and interest throughout. The story is set in a high tech futuristic world. The video games you get to play are with real lives. My character is a quirky fan of one of the best players.
[Shockya]
New Moon:
Three new pictures from the Twilight sequel. [Horror Year Book]

Sarah Jane Adventures:
So as we suspected, David Tennant's Doctor is showing up on this spinoff show, for a two-parter to be written by Gareth Roberts. (It's part of the third season, airing this fall.) Russell T. Davies tells Doctor Who Magazine that Tennant's appearance isn't a cameo, it's a proper part of the story. And K-9 (the real one, not the weird new version) will appear as well. RTD says the two-parter is "extraordinary, wild and powerfully moving," and the "wedding of Sarah Jane will be a day for everyone to remember." [Den Of Geek]
Lost:
Producers Carlton Cuse and Damon Lindelof reiterate that they've known for a long time what the show's final scene will be, and they have a pretty good idea of the final episode. But they're leaving enough wriggle room to account for character development and discoveries along the way. [TV Guide]
V:
A new review adds some more details to the ones we already knew. The UFOs appear over a dozen Earth cities, and the first five minutes deal with their arrival, culminating in the face of the leader, Anna, appearing everywhere. The only human character who gets fleshed out in the pilot is FBI agent Erica (Elizabeth Mitchell) who's more proactive and confident than Juliet on Lost. Her son Tyler is a huge supporter of the alien V's, and goes around spray-painting the letter "V" on trash cans. Also compelling are Chad the conflicted news anchor who sells out to the V's but feels bad about it, and Ryan, the V who betrays his own people. And it sounds like the show actually goes for the Independence Day jokes. [AICN]