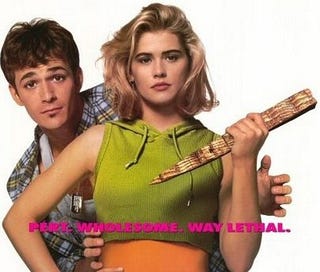 Hollywood wants to remake the original Buffy The Vampire Slayer movie — but darker, with all new characters, and (most importantly) without Joss Whedon. Do they know who they're messing with?
According to The Hollywood Reporter:
Roy Lee and Doug Davison of Vertigo Entertainment are working with original movie director Fran Rubel Kuzui and her husband, Kaz Kuzui, on what is being labeled a remake or relaunch, but not a sequel or prequel.
This film would have no ties to the TV series, and characters like Angel, Xander, Willow or Spike would not appear. Rumors are the re-creators are looking for a darker alternate storyline, with a new slayer in today's times. Whedon, the writer of the original Buffy film and eventual producer, writer, director and caretaker of the entire Buffy franchise, hasn't even been approached about the remake. Says THR: "The producers do not rule out Whedon's involvement but have not yet reached out to him." Well they'd better get him on board, unless they want to make a movie that will unleash the deepest, most horrible backlash of all time.
With all the vampire media hype today, it's no wonder they want to strike while the staking is hot, but to remake Buffy, without Whedon? That just seems wrong, and pretty darn stupid. Granted, Kuzui was the executive producer of the Buffy TV series and Angel spin off, but it was always Whedon's baby. To make it without his involvement seems to be missing the point as to why people loved this franchise. It's all Whedon — his characters, voice, dialogue, story telling, quirks — the list goes on.
Back in 1998 Variety reported that Whedon was toying with the idea of a big budget Buffy film, and just this April Whedon was quoted telling the press that a Buffy movie was