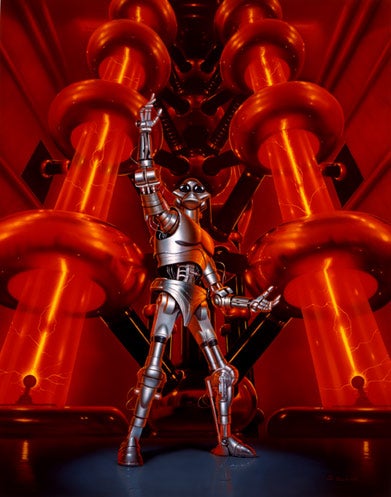 With his elegantly simple Three Laws of Robotics, Isaac Asimov sidestepped the murderous robot cliche that had so dominated science fiction. But even the Good Doctor wasn't completely immune to the lure of killer robots.
Here now are the Three Laws, in case anyone needs a refresher (also, I never, ever getting tired of seeing them in print):

1. A robot may not injure a human being or, through inaction, allow a human being to come to harm.
2. A robot must obey orders given to it by human beings, except where such orders would conflict with the First Law.
3. A robot must protect its own existence as long as such protection does not conflict with the First or Second Law.
Asimov's Three Laws moved robots in science fiction away from what he referred to as the Frankenstein complex. This frequent cliche of early science fiction held that robots were vengeful monsters fated to rise up against their former masters in murderous wrath. His short stories recast robots as tools - incredibly complex tools, to be sure, but nonetheless tools that operated within the safeguards and parameters of the Three Laws - and allowed for a more cerebral, layered exploration of the differences between humans and robots. By presupposing robots were never deadly threats, Asimov opened his stories up to a far wider range of dramatic possibilities.
To be sure, Asimov did not completely remove the Frankenstein complex from science fiction, but the questions he raised complicated the depictions of even the most murderous machines, from the AI in the Matrix films to all those Terminators running around lately. Indeed, any discussion of robots in fiction is incomplete without acknowledging Asimov's work, and our Killer Robots week has been no exception.
Gizmodo dealt with the three laws earlier this week when they pointed out they were total BS (which, being a total Asimov fanatic, may mean I have to challenge the entire Gizmodo staff to fisticuffs, although I'm still undecided on that point), and I Robot led off our list of groundbreaking robot books, as is only proper. But we still haven't considered whether Asimov made rather more direct contributions to the killer robot genre than he is generally given credit for.