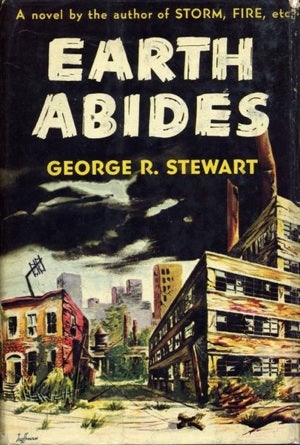 These days, SF thrillers in which natural disasters end human life as we know it are mainstream fare. But long before M. Night Shyamalan and J.G. Ballard flirted with disaster, the authors of SF's Pre-Golden Age (1904-33) speculated wildly, and sometimes presciently, about the possible causes of dire biospheric transformations.
During science fiction's Golden Age (roughly, 1935-65), scores of novels and stories depicted vast natural disasters. If 9/11 was the real-life version of a New York catastrophe we'd seen in SF many times before, Al Gore's melting-glaciers slideshow in An Inconvenient Truth was, uncannily, only the latest of many global-warming cataclysms about which SF fans had read in novels about, for example, sea-dwelling aliens (John Wyndham's The Kraken Wakes), nuclear testing (Charles Eric Maine's The Tide Went Out), even the stalling-out of the Earth's rotation (Brian Aldiss's Hothouse).
J.G. Ballard's 1960s disaster tetralogy, and Golden-Age classics like George R. Stewart's Earth Abides helped legitimate and popularize the eco-disaster novel. But the writing of the natural disaster, as Blanchot might put it, is a pre-Golden Age phenomenon. Richard Jefferies' 1885 romance After London vividly depicted an England that had reverted to neo-medieval civilization after a Planet X-like "dark body" disrupted the Earth's climate; and Camille Flammarion's popular Omega: The Last Days of the World (1893-94 French, 1897 English) imagined the dissipation of the Earth's atmosphere after a comet strike. The Panama Canal project also sparked fears: In 1890, H.C.M.W.'s The Decline and Fall of the British Empire was among the first of many portrayals of the disastrous effects of merging the Atlantic with the Pacific via the Canal. Still, it wasn't until the early 20th century that the eco-catastrophe emerged as a literary sub-genre.
Here's a rundown — in no particular order — of 10 eco-catastrophes from SF's Pre-Golden Age (1904-33) that are particularly enjoyable and/or significant. Those influential examples on which I focused in my post on PGA apocalypses aren't written up here.