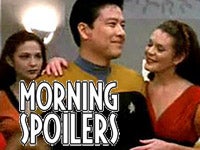 Spoiler frenzy! There's tons of Terminator Salvation behind-the-scenes footage. Plus more Transformers story details. New Doctor Who set pics reveal a surprising twist. The fate of Lost's Locke explained! Also: Iron Man, Smallville and Reaper.

Terminator Salvation:
The first reviews of this film are in, including a few new spoilers. The movie references The Great Escape a few times. Marcus Wright's existential dilemma, after realizing he's a cyborg, comes fairly late in the movie, and so does his determination to "find out who did this to me." The only funny bits are the callbacks to earlier movies, like when people say "I'll be back" and "Come with me if you want to live." [Variety and Hollywood Reporter]
Also, G4 had an hour-long behind-the-scenes special on the making of this film, and here's the whole thing:

So what would happen in Terminator 5? According to McG, it would be "more of a Skynet story, more of a John Connor story," and look more into the genesis of Marcus Wright and the machine hardware. [Access Hollywood]
Transformers: Revenge Of The Fallen:
The details about the movie's storyline which we ran the other day came from two junior novelizations. Now, the same source has read the grown-up (sort of) novelization, and has a new batch. The story starts with a giant robot startling a group of hunters who are chasing a big jungle cat — they worship it as a god, even after it tosses one of them around.