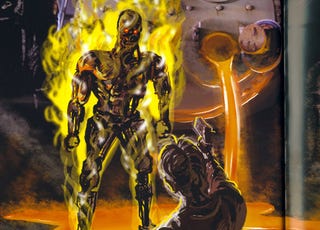 Terminator Salvation will burn itself onto your retinas, if it's anything like the concept art in a new book, The Art Of Terminator Salvation. Another new book shows how Salvation's crazy set pieces came together.
Oh, and there are spoilers in this write-up, although I'll try to keep them as vague as possible.
As with Watchmen, Titan Books has put out a couple of coffee-table books connected with Terminator Salvation. There's the "Art Of" book I just mentioned, plus Terminator Salvation: The Official Movie Companion. Both books give you a sense of just how deep the people involved in this movie went in trying to imagine a horrific robot-dominated future for us. Plus, if you're the sort of person who actually owns a coffee table, these books will look cool on it.
(Digression: I'm now trying to imagine someone who owns a coffee table and has people over for fancy dinner parties, and who loves the Terminator movies and bitchin skeletons on fire. I can actually picture it: You could make a decent case, as you swirl the sherry around your mouth and chew bits of stilton on pears, that some of these paintings of future desolation and anti-robot warfare really are art that belongs on the same nice Ikea table as your giant-size book of Hogarth woodcuts. For one thing, they're a lot more relevant to the technological era we live in, and they present a vision of the future that we should pay heed to. Okay, I'm convinced — pass the sherry.)
So yes, as seems to be par for the course, Terminator Salvation has spawned art that's easily as memorable and eye-catching as anything you'll see on screen, and looking through the film's storyboards and concept art puts me in mind of a really intense European graphic novel.
The Art Of Terminator Salvation, in particular, showcases just how brilliant Martin Laing's concept art is and how sweeping the movie's visuals are going to be. It makes a strong case that Terminator 4 will be a horror movie as well as a war movie, thanks to all of the weird experiments Skynet is doing on the last survivors of humanity. At least, if all of the imagery from the book makes it into the film, you'll be seeing lots of images of half-starved humans who are carved up and turned into miserable cyborgs, with weird metallic pieces sticking into their flesh.
Martin Laing first blew our minds with his incredible design work on the vastly underrated subterranean adventure City Of Ember. He created an entire city that felt like a lived-in place, with a real history that stretched back centuries, and a believable geography. And then he created some great set pieces, including the ending where the hydo-power station starts to blow up as the river leading out of Ember is revealed. But his work for Terminator Salvation is even more impressive, maybe because the film had a huge budget to play with.
Here are a few of our favorite images, out of the hundreds of gorgeous pics in the book:
You get some amazing, kinetic storyboards, like the helicopter-on-Terminator assault we showcased a while back. You can see how Laing and company created actual blueprints for the different models of the Terminators in the film, to deliver to Stan Winston studios, which created "puppet" Terminators for some sequences. We see how the nice, shiny T-1 from Terminator 3 got dirtied up and turned into a grey, dingy killing machine for the new movie. The T-600s look more disturbing and inhuman every time I see them, and this book has some incredible images of them. The Aerostats are like huge evil flying spiders, searching for humans to harvest. And then there are the Hunter-Killers, which have never looked so dark, massive or predatory.