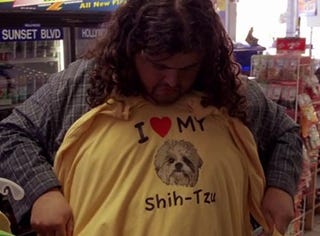 In honor of tonight's Lost season finale, we decided to pay tribute to everyone's favorite Shih-Tzu lover, Hurley. Thanks for explaining this whole time-warp mess to us, Kong.
Shih-Tsu Lover (Had To Do It)
Hurley is on the run from Johnny Law and the only was to get the fuzz off his tail is to change out of his Sayid-stained threads and buy an XXXXXL "I love my Shih-Tzu" t-shirt from the gas station. Points for speed and inventiveness as well as sartorial know-how.
Great season, Hurley — can't wait to see what you'll explain next.