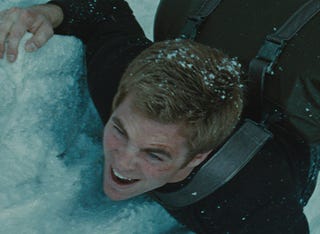 He's fearless, cunning, and the greatest playa in the Alpha Quadrant. But I don't for one second believe that the new James T. Kirk is someone you would follow into a life-or-death situation. Spoilers ahead...
Before I start, let me be clear: I loved the new Trek, numerous plot holes and all, and pretty much the whole movie worked for me, not just as Star Trek, but as a movie. I would have probably liked it better if it'd used all that inventiveness and emotional charge to create a totally new space-opera franchise, but it actually made me think Trek still had some lingering potential. But the one thing that bugged me was this new Kirk, who didn't just seem like the admittedly dickish Shatner Kirk as a young man, but a much more annoying frat-boy-ish version.
It's also funny, because I would not have described myself as an admirer of Shatner's version of Kirk. Shatner's Kirk was abrasive, mean to his underlings, bombastic, prone to insanely long speeches, burst into fits of laughter in his command chair for no reason, and cast sleazy illuminated-eye gazes at any woman who wandered into his orbit. I had a couple of bosses who reminded me way too much of Kirk, which is one reason I made him one of the seven types of bad bosses in Star Trek.