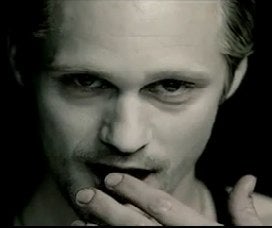 HBO has released a few behind the scenes looks at the making of True Blood Season 2, giving us some new scene peeks — and a closer look at Eric's new vampire hairdo.
New Bob Dylan Vamp Dance And Stare Off:


Good to see more Eric and his fresh new 'do. Its one thing to describe like a Gothic meat stick in the novel, and an entirely other thing to see that description brought to life. The haircut was a good idea. Also check out this new season two trailer. I'm loving Sam's nemesis and how she calls him a dog. True Blood will be back June 14th.