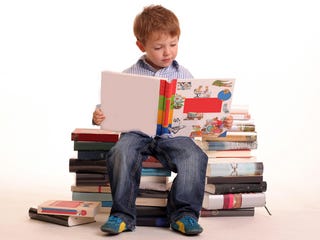 In these troubled times, whether you're looking for some simple escapism or a vision of how things could be even worse, science fiction has the answer. And book sales are starting to reflect that.
An article in today's Publisher's Weekly traces how the economic crisis and all the resulting social instability have led to two opposite but complimentary trends in book sales. On the one hand, there's the more obvious public interest in flights of fancy to happier, less complicated locales, which present clearer heroes and villains than what people get from the murky financial scandals that dominate the headlines. Seale Ballenger of HarperCollins's Eos Imprint explains:
"We are seeing the trend toward escapism across the board in all areas of publishing right now due to the faltering economy. People really want to focus on something other than the nonstop woes of the world. The escapist nature of SF and fantasy gives readers a doorway into a world very different from their own."
As we saw earlier, that mostly takes the form of urban fantasy. More traditional science fiction dominates the reverse trend, which has seen a huge increase in interest for dystopian fiction. Michael Homler, editor at St. Martin's, says: