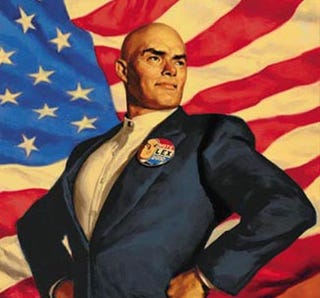 Looking to get a jump on the history books? Science fiction already has a complete list of the men, women, and murderous aliens who occupy the White House in this bright new 21st century.
The late twentieth century had a bit of a rough time when it came to fictional presidents, what with Richard Nixon's controversial five-term administration, the suspected impersonation of a comatose president by some two-bit lookalike, and the short-lived Rigelian takeover of the White House in order to build a giant ray gun for an interstellar war (and feel free to blame me – I'd sooner be blasted into space than vote for Kodos). But with all that behind us, the future looks bright for a brave new twenty-first century of honest, inspiring fictional presidents who could restore honor and dignity to the White House…
42*. Lex Luthor (2001-2004)
43. Pete Ross (2004)
44. Jonathan Vincent Horne (2004-2009), from DC Comics
Well, that didn't last long, did it? Sure, Lex Luthor seemed like such a refreshingly different choice - a successful industrialist, an inventive genius, and a man so wealthy there was no danger he'd ever have to bow to special interests. He was like Ross Perot without all the crazy except, as it turned out, he was just a little too obsessed with killing Superman. He did have an early success when he led the successful defeat of the cosmic destroyer Imperiex, but his naturally criminal inclinations soon got the better of him. His attempt to frame the Man of Steel for launching a kryptonite asteroid at Earth was foiled by Superman and Batman, leading to his removal from the presidency. Vice President Pete Ross took over briefly, but then it really, really looked like he was the supervillain Ruin, so he had to go. After all this turmoil, Jonathan Vincent Horne rather quietly led the US through two crises, World War III, and an entire year without the world's most powerful superheroes, without once suspected of being a supervillain (although there was that evil robot...).
45. Barack Obama (2009-2017), from pretty much every other comic ever