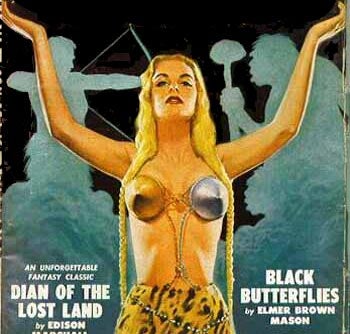 People always say the story is the most important thing in good science fiction. But excessively "plot-driven" science fiction is dismissed as mindless or worse. What's the difference between story and plot anyway?
Are "plot" and "story" just two different ways of saying the same thing? They're both about a sequence of events that starts in one place and ends in another? (Or goes in a circle, in a hopefully meaningful fashion.) And yet, people seem to use them to describe very different things.
When people talk about a "plot-driven" science fiction book or movie, they're usually implying that the characters are as wafer-thin as the exploding mint in Monty Python's Meaning Of Life. The only thing a "plot-driven" work cares about is marching us from one plot point to another. There's a spaceship that's going to crash, and we have to stop it! But if the spaceship doesn't crash, then the hero's mother will never have been born! And so on. It's all about the mechanics of the plot.
(For some examples, see the Science Fiction and Fantasy Writers Of America glossary of critiquing terms, which says "plot-driven" stories are ones in which the author forces the characters to go in the direction the plot requires, whether it makes sense or not. Also, a commenter at SFSignal says serious science fiction is being replaced by plot-driven spectacle.)
Meanwhile, you hear creators, and fans, talk about "the story" with awe. Joss Whedon, for example, talks regularly about how "the story" is the most important thing in his works, and everything else is secondary. (Says Joss, "The STORY is in charge, the story that keeps on speaking to me, that says there is much more to tell about all these characters.") Usually, there's an implication that "story" involves more of an emotional component, or some kind of magical alchemy, that's not present in mere plot.
Here's Doomsday Book author Connie Willis, talking in 1997 about how her religious beliefs affect (or don't affect) her writing:
I think writers have to tell the truth as they know it. On the other hand, I think every truly religious person is a heretic at heart because you can't be true to an established agenda. You have to be true to what you think. I think Madeleine L'Engle and C.S. Lewis both have times when they become apologists for religion rather than writers. I want always to be a writer, and if my religion is what has to go, so be it. The story is everything.
Samuel Delany talks, obliquely, about the relationship between plot and story in his book, About Writing, which I reviewed a while ago. First, he quotes E.M. Forster, from his 1927 book Aspects Of The Novel: