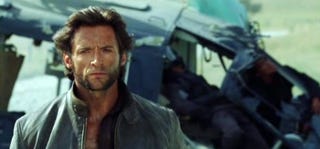 Whoever leaked a workprint of X-Men Origins: Wolverine online did Fox a favor. Maybe the bad buzz from this brain-dead (and incomplete) print will spur the studio to make some last-minute fixes. Spoilers definitely ahead...
So first of all, let's just say that if you're not one of the estimated 75,000 people who've already downloaded this film from the Internet, you really shouldn't. For one thing, it's clear from watching the "workprint" that this film will look superb on the big screen - the action sequences really are widescreen and amazing, and there's plenty of dementedly awesome stunts. But also, this incomplete print is still missing a lot of the finished special effects, and some scenes are lacking, purely because the last elements haven't been slotted in yet. By all accounts, it's also an early cut, missing some scenes and without the final edits. You'll have much richer viewing experience if you see this film in the theater.
But also, I'm hoping, after watching the thing, that the studio will take this opportunity to make some improvements. As it stands now, unless the film gets re-edited pretty drastically, we're looking at a movie-length episode of Heroes, only with amazing stunts and mind-blowing action. (This early synopsis pretty much covers the bases, although it's missing a few plot wrinkles.) If all you care about is cool fight scenes and things exploding, then you're good to go. If you want to care, even a little, about the people who are fighting each other, then this film needs a bit of surgery.