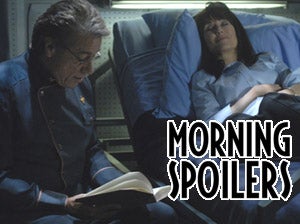 Robot carnage has never looked as amazing as it does in new Terminator Salvation pics. Also, clips from Lost and Sarah Connor show mind-bending questions. Plus Transformers, Life On Mars, Fringe and Supernatural. Spoilers rule!
Oh, and as with last year, we decided not to stick any April Fools stuff in today's spoilers... and we did our best not to get taken in by any April Fools posts from other sites. Fingers crossed that we succeeded...

Transformers: Revenge Of The Fallen:
The two main characters of this sequel are Sam and Optimus Prime, who both go through similar character arcs about being away from home and learning to live on your own. And the "giantic" first bot we see is Wheelbot. Other Transformers in the movie include Jetfire, Arcee, Mudflap, Volt (the electric car), plus the Decepticons (Starscream, Soundwave and the Fallen) and the Constructicons (Demolishor, Hightower, Long Haul, MixMaster, Rampage and Scrapper.) There may or may not be an explanation in the film for why Arcee is a girl. [Sci Fi Wire]
Terminator Salvation:
A new extended trailer shown at Showest included a shot of either John Connor or Kyle Reese holding the iconic photo of Sarah Connor, from the first movie. [Slashfilm]
And here are four new photos, which look pretty fantastic. [SpoilerTV-Movies]

Terminator: The Sarah Connor Chronicles:
The first look at the penultimate episode of the season, airing Friday. Finally, the strands start to converge! [Fox and Sarah Connor Society]


Lost:
The scene where Sayid shoots Ben will have huge repercussions for the rest of the series, and will be one of the most talked about scenes, says actor Sterling Beaumon. He also claims that now the castaways can change history, because they're stuck in the past. So maybe the massacre will never happen. And "that big older mean Ben that we know very well may not even exist." But the other Ben, Michael Emerson, says it would be wrong to count Ben out, because Ben has a destiny. [TV Guide and TV Guide]
Also, Beaumon had two theories: that Ben and Locke are brothers, and that Miles is Marvin Candle's son. Producer Damon Lindelof told him one of those was true. (I'm pretty sure it's the one about Miles.) [Zap2It]
Ooh, and here are some clips from tonight's episode. Hurley's BTTF riff is amazing. But man, Jack is cold!




Whoever dies at the end of the season, we'll have a Charlie-level freak-out over it, and it'll cause tons of grief and remorse. [E! Online]
According to the spoiler-fiends at SpoilersLost, the "Watch With Kristin" Q&A also included a bit where they said the person who dies in the finale is the polar opposite of Charlie Pace in "at least one physical attribute." But for some reason, the E! Online folks deleted that question and answer after a while. (I never saw it, so I can't verify this.) [SpoilersLost]
Life On Mars:
We weren't the only ones to interview producers Josh Appelbaum and Scott Rosenberg. They dropped a few spoilers. In tonight's episode,