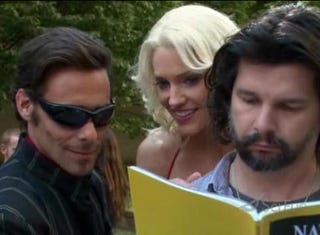 Religion is a huge part of science fiction - and it makes the genre better and more fascinating, as Battlestar Galactica proved. But there are seven mistakes SF should avoid in portraying the spiritual realm.
BSG wouldn't have been nearly as epic if it hadn't included spiritual themes from the beginning. The inclusion of religious elements added a way bigger scope and grandeur to the story of humanity's last remnants struggling to survive - and it was realistic, since you'd expect people to be asking the big theological questions in that situation.
In general, religion and spiritual topics are a huge part of science fiction - if you're really determined to avoid them altogether, you're probably stuck with a few golden age novels, and a handful of Lost In Space reruns. But just like other science fiction elements, like first contact, time travel and space battles, science fictional religion can be done well - or it can be cheesy and weird.
Here are seven mistakes science fiction sometimes makes in handling religion (and I freely admit I was influenced to think about this by all the comments on Annalee's final BSG recap and some of our other posts):
1. The cargo cult. Yes, I know, the gods really must be crazy. But I'm really sick of stories about primitive peoples who discover high technology and start worshipping it. Or the descendants of high-tech people, who have become primitive and started worshipping their ancestors' technology. Like the Ewoks worshipping C-3PO, or the desert people worshipping the spacesuit in Doctor Who's "Planet Of Fire." There's usually an undertone of "See? This proves religion is teh stupid." Also horrible: robots worshipping the people who made them, or aliens worshipping humans. Or aliens worshipping Ferengi.

2. The cheap Jesus. There's nothing wrong with having a messianic figure in your science fiction - I'm not trying to take all the fun out of everything here - but don't just pull the Jesus imagery out of thin air and expect it to mean something. Yes, I'm looking at you, crucified Neo. And I'm looking at you, Jesus H. Baltar. (And even though I love the ending of Doctor Who's "Last Of The Time Lords," I'm also looking at you, floaty cruciform Doctor.) The indispensible TVTropes website has a great list of "random religious symbolism tossed in for no reason" moments.
3. The dumb space gods. Whenever we actually meet a god or gods in science fiction, it's almost always a letdown. (There are exceptions - Star Trek: Deep Space Nine managed to have our heroes meet the timeless Prophets inside the wormhole, without ever losing their mystique.) Usually, though, when we meet a god or a godlike alien, it's a cheesy old guy with a funny beard. Or it's Jodie Foster's condescending dad.