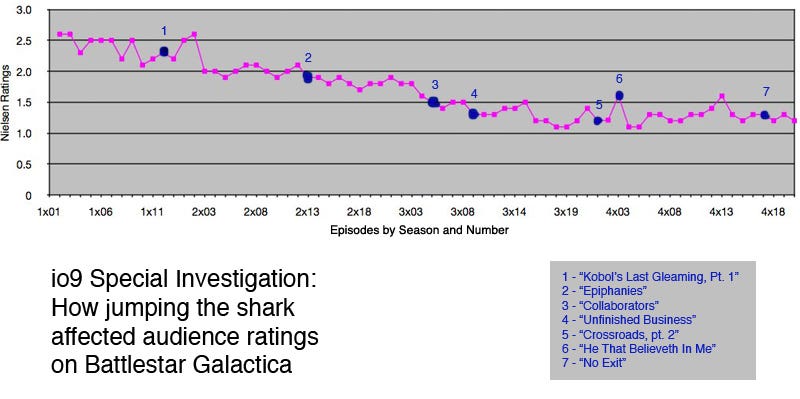 When fans say a TV series has jumped the shark, do the masses really notice? We did some research on Battlestar Galactica's audience numbers to see if bad moments in the show drove audiences away.
The chart above shows Nielsen Ratings that measure audience numbers on the Y axis, and every episode of Battlestar by season and episode number on the X axis. (We left out the final two episodes, as that data wasn't in yet when we did the chart.)
One thing you'll notice right away is that the show's ratings decline very gradually, which is a normal shape for audience stats to take with any TV series. So that doesn't indicate that the show went downhill. It just means that most TV shows tend to shed audience numbers over a period of years. Another thing you'll notice, if you cross-reference with this handy episode guide on IMDB, is that many of the biggest audience spikes are associated with season finales and season premieres. These "event" episodes don't always reflect the trends we're looking for here.
So now there's the question of how you determine which episodes are shark jumpers. Obviously this is fairly subjective, but we did have at least one semi-objective measure. We ran a poll last year asking readers which episodes of BSG they thought were shark-jumpy. So three of the episodes we list above got votes from 500 or more people who thought they were shark jumpers. These were: "Epiphanies," (where Roslin was "cured" of cancer by hybrid Hera's fetus blood); "Crossroads, Pt. 2" (when Bob Dylan was in the cupboards and we learned who the Final Five are); and "He That Believeth In Me" (when Baltar founded a love cult).