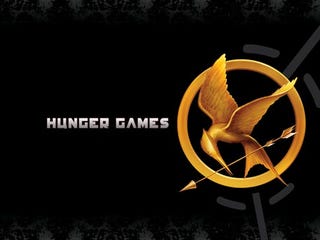 At first blush, a movie version of Suzanne Collins' media-saturated death-sport novel, The Hunger Games, sounds like a great idea. Until you realize the major pitfall that movie faces, that is.
According to the Hollywood Reporter, Lionsgate picked up distribution rights to the Hunger Games movie, which will be produced by Nina Jacobsen and her Color Force production company.
Collins, a former television writer, crafted a thrilling, twisted world where the chosen victims from across a fractured United States have to fight for their lives - while playing to the cameras and trying to win sponsorship deals. (Those sponsorship deals are pretty much the only way to get crucial supplies during those Running Man-esque fights.) The novel's main character, Katniss, is a rough-edged forest hunter, but she learns to pretend to a whole range of emotions, including love for her fellow gladiator Peeta, to win over the audience's sympathies.
We loved The Hunger Games when it came out last fall. And as I said, a movie version of the book sounds like a great idea at first - you can foreground the crazy media hype and oversaturated coverage of the Games, and show how Katniss gets sucked into becoming a packaged commodity even as she's fighting for her life. It could even be a bit Ed Neumeier-esque in its social satire.